Red and White triumphant on Day 1 of Top Prospects
February 7, 2022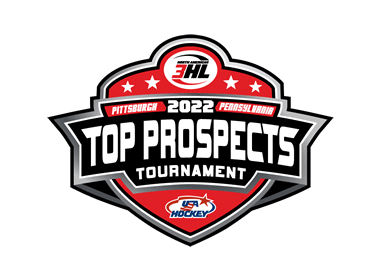 It was an exciting first day of the NA3HL Top Prospects Tournament as the offensive skill was on display. 19 goals were scored in the two games as scouts got a good look at over 80 NA3HL players.
Over 150 scouts from the NHL, NCAA, and NAHL check in on Day 1 of the event, which is being held from February 7-8, 2022 at the UPMC Lemieux Sports Complex in Cranberry Township, Pennsylvania. The UPMC Lemieux Sports Complex is the practice home to the NHL's Pittsburgh Penguins.
For more information on the NA3HL Top Prospects Tournament, please visit: http://na3hl.com/tpt/
Monday, February 7th
Red 9 vs. Blue 3
White 4 vs. Black 3 (OT)
Tuesday, February 8th
9:00am - Blue vs. White
11:30am - Black vs. Red
Day 1 recaps
Red 9 vs. Blue 3 – Eight different players scored for Team Red as they displayed plenty of offense in a 9-3 win over Team Blue. Team Red got off a fast starting, scoring three goals in the 1st period to take a 3-0 lead as Elijah Devereaux (Danbury), Pavel Bakhtin (Wausau), and Ilnur Madiarov (Mid Cities) all scored. The lead swelled to 5-0 in the 2nd period as Michael Imala (TX Brahmas) and Kyle Russell (Mid Cities) both lit the lamp. Blue would get on the board midway through the period as Jake Weikel (Long Beach) scored. Red would again push the offense, scoring another goal from Dylan Walker (Danbury). Blue would then get two goals from Gustav Ostman (Yellowstone) to make it 8-3 In the 3rd period. Red would complete their scoring on a goal from Caden Butler (El Paso). Camden Pendleton (El Paso) stopped 11 of 11 and Dolan Gilbert stopped 15 of 18 in the win. Jake Turek (Gillette) (15 shots/11 saves) and Cooper Olson (Willmar) (17 shots/12 saves) shared in the loss.
White 4 vs. Black 3 (OT) – Sean Kenny (Alexandria) scored twice and Ethan Chesney (Peoria) had a goal and two assists to lead White to a 4-3 overtime win over Black. Kenny opened the scoring for White with the lone goal of the 1st period. Black then exploded for three goals in the 2nd period to take a 3-1 lead as Nolan Murphy (Northeast), Tyler Love (TX RoadRunners), and Nate Stone (Milwaukee) all scored. White stormed back in the 3rd period with goals from Jason Tenezaca (Oregon) and another one from Kenny. It took just :42 seconds of overtime for Chesney to win the game for Team White. Owen Carlson (Mason City) played the entire game for Team White and made 24 saves in the win. Anthony Adleman (Oregon) stopped 13 of 16 and Hunter Hein (TX RoadRunners) stopped 11 of 12 in the loss.