Blizzard secure final playoff spot in West with win
February 10, 2022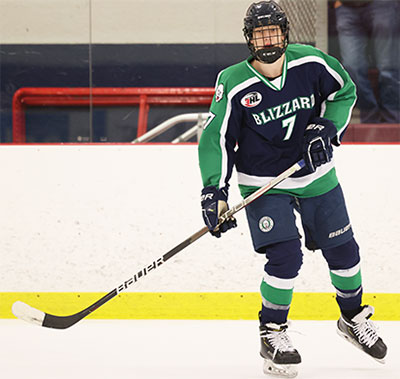 New Ulm 0 @ Alexandria 11 – Ethan Moerke and Matt Mcintyre each had a hat-trick to lead the Blizzard to a convincing 11-0 win over the Steel on Wednesday. The win clinched the fourth and final playoff spot in the West for the Blizzard. The Blizzard scored three goals in both the 1st and 2nd period, which included a hat-trick for Moerke and others from McIntyre, Zachary DeMarce, and Gavin Carlson. The Blizzard didn't let off the gas in the 3rd period, scoring five more times, including two more goals from McIntyre and others from Charlie Larsen, Justin Wasvick, and Alex Heidenreich. Bailey Rosch made 14 saves in the win and shutout for Alexandria and Alex Benson (26 saves) and Zach Foster (22 saves) both played in the Steel loss.
New Jersey 8 @ Norwich 5 – The Titans widened their lead for the 4th and final playoff spot in the East thanks to an 8-5 win in Norwich. Roland Ponechal and Parker King had two goals apiece in the win. Things were even at 2-2 after one period as Ponechal and Ryan Miller scored for New Jersey and Brian Essing scored twice or Norwich. In the 2nd period, New Jersey took a 5-4 lead with goals from Ponechal, King, and Alex Blaszak, while Jameson Bain and Drew Schemmel scored for Norwich. In the 3rd period, Norwich briefly tied the game at 5-5 on another goal from Bain, but the Titans then scored three straight to secure the win, which included goals from Isaiah McKinney, Teito Ishigaki, and King. Colin Freitas made 19 saves in the win and Andrew Yocum made 19 saves in the loss.
Northeast 6 @ Bay State 3 – The Generals moved closer to securing the East title as they doubled up Bay State on Wednesday. Nick Wracker and Braeden Kennedy each had two goals in the win. The Generals jumped out to a 3-0 lead on goals from Jack Demoura, Wracker, and Kennedy. Bay State stormed back with three straight goals to tie the game at 3-3 as Landon Boothe, Damon Warren, and Jace Desmarais scored. The Generals then closed out the game with three straight goals in the 3rd period as Wracker and Kennedy both scored their second goals of the game and Eddie Mulligan also added a goal. Mason Joseph was credited with the win and 9 saves and Ben Di Fiore made 36 saves in the loss.