February 25, 2022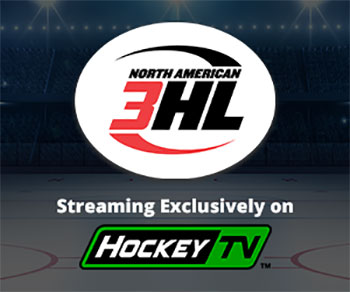 Just a few games remain in the 2021-22 NA3HL regular season as February ends with 38 games on the busy schedule from Friday-Sunday.
Just two playoff spots remain available, one in the East and one in Frontier. There are also regular season crowns still waiting to be won in the Central, Frontier, and South Division's, which could happen as soon as Friday night. The NA3HL overall regular season crown will also come down to the wire as Granite City is just mere percentage points ahead of Northeast.
In the Central Division, Rochester needs just one point or a Peoria loss of any kind to clinch the regular season crown. They will be taking on Wausau in what will likely be a first-round playoff match-up. In the East, the final spot has yet to be decided as Bay State has a three-point lead on New Jersey, but the Titans do have three games in hand. In the Frontier, the Butte Cobras need just one point or a Yellowstone loss to claim the final spot, while Helena and Gillette still remain tied at the top with 80 points each. In the South, the Texas Brahmas look to clinch the division and need just a few more wins to do so. Things are pretty much set in the West, but Granite City looks to keep their remarkable winning streak doing.
The NA3HL is in its 12th season in 2021-22 and serves as one of the top training grounds in the country by providing the best coaching, exposure and developmental vehicles available for student-athletes in Tier III junior hockey. It is one of only two USA Hockey-sanctioned Tier III junior leagues.
No other league of its kind has had more movement and advanced more players onto play in the North American Hockey League (NAHL) than the NA3HL. Thanks to additional and enhanced initiatives in cooperation with the NAHL put in place several years ago, more players from the NA3HL play, practice, and earn NCAA Division I scholarships with the NAHL than any other league.
This past season not only did 35 NA3HL players sign tenders to play in the NAHL for the 2021-22 season, but 21 more players were selected in the 2021 NAHL Draft. The NA3HL also continues to make its mark and is one of the leaders in junior hockey with the advancement of players onto the NCAA.
All games broadcast live on HockeyTV.
Download the all new NA3HL app (App Store - Google Play)
FRI, FEBRUARY 25
Bay State at Norwich - 12:00 PM EST
Louisiana at Texas RoadRunners - 6:15 PM CST
Mid Cities at Oklahoma City - 7:05 PM CST
El Paso at Texas Brahmas - 7:05 PM CST
Minnesota at Alexandria - 7:10 PM CST
Rochester at Wausau - 7:10 PM CST
Atlanta at Austin - 7:30 PM CST
Willmar at Granite City - 7:30 PM CST
New Ulm at Mason City - 7:30 PM CST
Peoria at Oregon - 7:30 PM CST
Gillette at Badlands - 7:05 PM MST
Helena at Bozeman - 7:30 PM MST
Yellowstone at Great Falls - 7:30 PM MST
Butte at Sheridan - 7:30 PM MST
SAT, FEBRUARY 26
Milwaukee at St. Louis - 2:30 PM CST
Norwich at Long Beach - 4:00 PM EST
Danbury at Bay State - 5:40 PM EST
Louisiana at Texas RoadRunners - 6:15 PM CST
Mid Cities at Oklahoma City - 7:05 PM CST
El Paso at Texas Brahmas - 7:05 PM CST
Willmar at Alexandria - 7:10 PM CST
Rochester at Wausau - 7:10 PM CST
Atlanta at Austin - 7:30 PM CST
New Ulm at Mason City - 7:30 PM CST
Granite City at Minnesota - 7:30 PM CST
Northeast at New Jersey - 8:30 PM EST
Peoria at Oregon - 7:30 PM CST
Gillette at Badlands - 7:05 PM MST
Helena at Bozeman - 7:30 PM MST
Yellowstone at Great Falls - 7:30 PM MST
Butte at Sheridan - 7:30 PM MST
SUN, FEBRUARY 27
Danbury at Long Beach - 10:30 AM EST
Milwaukee at St. Louis - 11:00 AM CST
Mid Cities at Oklahoma City - 1:05 PM CST
El Paso at Texas Brahmas - 2:15 PM CST
Northeast at New Jersey - 4:30 PM EST
Atlanta at Austin - 5:00 PM CST
Great Falls at Helena - 4:00 PM MST