Americans open playoffs with Game 1 win in play-in series
March 3, 2022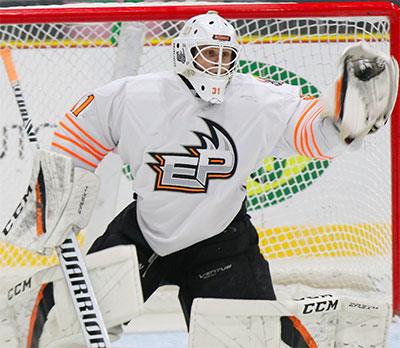 Frontier Division Play-In Series, Game 1: Great Falls 7 @ Badlands 2 (Great Falls leads series, 1-0) – The Americans cruised to a 7-2 win in Game 1 of their Frontier Division Play-In series against Badlands. Great Falls jumped out a 3-0 lead in the 1st period and never looked back as goals came from Henry Fusco, Hunter Maschke, and Blake Nerney. Tommy Gazich and Jace Thompson added 2nd period goals to make it 5-0. In the 3rd period, another goal from Thompson and one from Jackson Henningsgard completed the scoring for the Americans. Both Sabres goals came from Zach Vockler in the 3rd period. Americans goalie Will Simpson made 28 saves in the win, while Maxim Currie made 27 saves in the loss.
TX RoadRunners 0 @ El Paso 1 – Rhinos goalie Camden Pendleton stopped all 33 shots that came his way for his second shutout of the season as El Paso beat the RoadRunners, 1-0. The lone goal of the game came in the 2nd period as Riley Hunt-Bahn scored his 27th goal of the season with assists to Kaiden Hafele and Caden Butler. RoadRunners goalie Alexander Opalacz played well in the loss, making 32 saves.
New Jersey 0 @ Long Beach 3 – Ryo Murakami stopped all 23 shots that came his way for his 4th shutout of the season as the Sharks blanked the Titans, 3-0. Long Beach jumped out to a 2-0 lead in the 1st period with goals from Matt Carson and Max Rotsaert. Jack Fitzpatrick added a goal in the 2nd period to make it a 3-0 final. Donovan Alfama made 53 saves in the losing effort.
Northeast 5 @ Bay State 2 – The Generals stayed in the hunt for the NA3HL's overall regular season crown as they won their 21st straight game thanks to a 5-2 win in Bay State on Wednesday. Nolan Murphy had two goals in the win. Murphy opened the scoring with the lone 1st period goal. Caiden Hess and Cedric Savoie scored goals in the 2nd period and Murphy and Payton Felix added 3rd period goals. Both Bobcats goals came in the 2nd period from Landon Boothe and Michael Montague. Mason Joseph made 29 saves in the win, while Ben Di Fiore made 50 saves in the loss.