Danbury, OKC, El Paso, and Willmar win on Thursday
March 4, 2022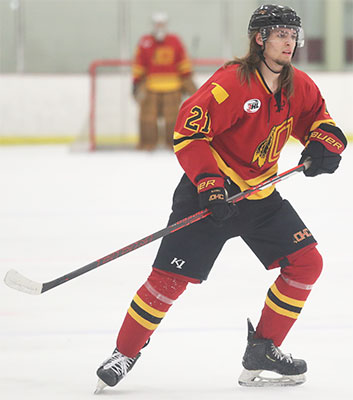 New Jersey 4 @ Danbury 7 – Danbury forward Ejijah Devereaux had a hat-trick and an assist to lead the Jr. Hat Tricks to a 7-4 home win over New Jersey. Devereaux scored the first two goals for Danbury and then added an empty-net goal late in the 3rd period. Dylan Walker had two goals and Reno Parker and Daniel Khatib also scored for Danbury. The Titans had leads of 2-1 and 3-2, but could not hold the leads. Joey Mataviesko, Roland Ponechal, Parker King, and Isaiah McKinney had the goals for the Titans in the loss. Lorenzo Rossi made 29 saves in the win, while Colin Freitas made 24 saves in the loss.
Austin 1 @ Oklahoma City 10 – Robby Rabroker tied an NA3HL single-game high with five goals in a 10-1 win over the Ice Bats. The Ice Hawks opened up a 2-0 lead with goals from Samuel Lamphear and Jakob Holley. Austin made it 2-1 with a goal from Jaylen Mendez. Rabroker then scored two goals and Holley added another goal to make it 5-1 after one period. Rabroker then added two more goals in the 2nd period and another in the 3rd period and Richard Indermill and Aaron Best also scored to complete the 10-1 final. Garrett Johnson made 14 saves in the win, while Sebastian Skarzenski made 50 saves in the loss.
TX RoadRunners 3 @ El Paso 4 – The Rhinos moved to within two points of the RoadRunners in the standings thanks to a 4-3 win on Thursday. El Paso jumped out to a 3-0 lead after two periods, getting goals from Cole Ingram, Kaiden Hafele, and Matthew Gross. The RoadRunners stormed back with three goals in the 3rd period from Kyle Portlock, Tyler Love, and Matthew Edestrand, but an El Paso goal from Payne Pent proved to be the difference. Camden Pendleton made 41 saves in the win, while Hunter Hein made 41 saves in the loss.
Willmar 4 @ New Ulm 3 (OT) – The WarHawks won their 10th straight game as they fought off a late surge from the Steel and won in overtime, 4-3. Wilmar opened the scoring in the 1st period with a goal from Marcus Mack. New Ulm took a 2-1 lead in the 2nd period as Griffin Lennes and Zachary Maret scored. In the 3rd period, the WarHawks regained the lead with goals from Michael Sweetland and Ethan Mock to make it 3-2. Late in the 3rd period, the Steel tied the game at 3-3 on a power play goal from Zach Dalzell. In the overtime, Willmar's Jeremiah Konkel netted the game-winner for his 24th goal of the season. Cooper Olson made 37 saves in the win, while Nolan Lacosse made 55 saves in the loss.