March 4, 2022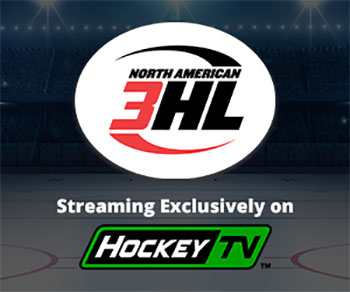 This is it… the final weekend of the 2021-22 NA3HL regular season is here!
While the Central, East, South, and West Divisions all complete their 47-game regular seasons, the Frontier Division will have their play-in series this weekend as well.
The only thing left to crown this weekend is the NA3HL's overall regular season champion, which is a two-horse race between Granite City and Northeast. Each team comes into the weekend with identical 43-2-0 records.
The Frontier Division play-in series got started earlier this week with Great Falls taking Game 1 against Badlands. Bozeman and Butte are in the other series. The winning teams will advance to play Helena and Gillette in the Frontier Division Semi-Finals.
The 2022 Fraser Cup Championship takes place from March 23-27 at the St. Peter's Rec-Plex in St. Peter's, MO. The five divisional playoff champions and one wild card team will advance to the NA3HL Fraser Cup Championship Tournament, where they will play a two-game round-robin format followed by a semi-final and a championship game.
All games broadcast live on HockeyTV.
Download the all new NA3HL app (App Store - Google Play)
FRI, MARCH 4
New Jersey at Norwich - 12:30 PM EST
Mid Cities at El Paso - 12:00 PM MST
Texas Brahmas at Louisiana - 4:05 PM CST
St. Louis at Milwaukee - 7:00 PM CST
Danbury at Northeast - 8:00 PM EST
Wausau at Peoria - 7:00 PM CST
Austin at Oklahoma City - 7:05 PM CST
Oregon at Rochester - 7:05 PM CST
Minnesota at Alexandria - 7:10 PM CST
New Ulm at Willmar - 7:10 PM CST
Granite City at Mason City - 7:30 PM CST
Butte at Bozeman - 7:30 PM MST
SAT, MARCH 5
New Jersey at Long Beach - 4:00 PM EST
Texas RoadRunners at Louisiana - 4:00 PM CST
Mid Cities at El Paso - 3:15 PM MST
Norwich at Danbury - 7:00 PM EST
Wausau at Peoria - 6:30 PM CST
St. Louis at Milwaukee - 7:00 PM CST
Austin at Oklahoma City - 7:05 PM CST
Oregon at Rochester - 7:05 PM CST
New Ulm at Willmar - 7:10 PM CST
Granite City at Mason City - 7:30 PM CST
Alexandria at Minnesota - 7:30 PM CST
Bozeman at Butte - 7:30 PM MST
Badlands at Great Falls - 8:00 PM MST
SUN, MARCH 6
Bay State at Long Beach - 10:30 AM EST
Norwich at Northeast - 1:00 PM EST
Austin at Oklahoma City - 1:05 PM CST
Texas RoadRunners at Louisiana - 4:00 PM CST
Butte at Bozeman - 4:00 PM MST
Mid Cities at El Paso - 4:30 PM MST
Badlands at Great Falls - 6:00 PM MST