Rhinos win Game 3 to advance to South Finals
March 15, 2022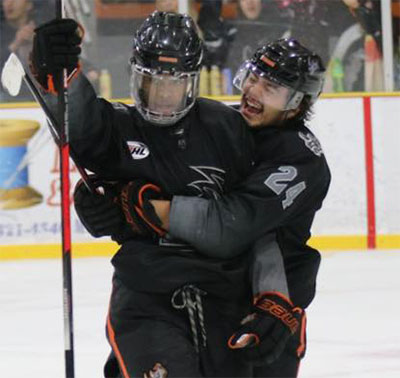 South Division Semi-Finals, Game 3: Oklahoma City 2 @ El Paso 4 (El Paso wins series, 2-1) – Tristen Elmhurst scored twice and Camden Pendleton made 37 saves to lead the Rhinos to a 4-2 win on Monday in Game 3 of their best of 3 South Division Semi-Final series against the Ice Hawks. With the win, the Rhinos advance to the South Division Finals, where they will meet the Texas RoadRunners. Neither team has ever been to a Fraser Cup Championship.
In the 1st period, the Rhinos opened the scoring with a goal from Connor Thompson. The lead was short-lived however as just :34 seconds later, the Ice Hawks tied the game at 1-1 on a goal from Lucas Helland.
Oklahoma City opened the 2nd period by taking a 2-1 lead thanks to a power play goal from Noah Henslee. Just over five minutes later, the Oklahoma City lead was erased as Zachary Ware scored his fourth goal of the series as he struck on the power play to knot the game at 2-2. Just over four minutes later, the Rhinos regained the lead for good as Elmhurst scored his first of the game and the series to make it 3-2.
In the 3rd period, Elmhurst got the puck at his own blue line and shot it down the ice into the empty Ice Hawks net to secure the win and the series.
Ice Hawks goalie Nathan Hadley made 45 saves in the loss.