Wild take Game 1 on Frontier Finals in OT thriller
March 17, 2022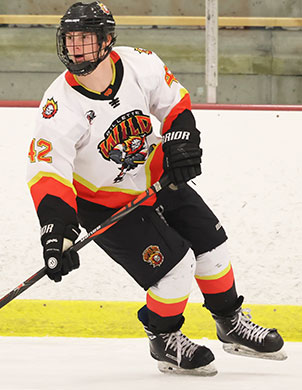 Frontier Division Finals, Game 1: Helena 3 @ Gillette 4 (OT) (Gillette leads series, 1-0) – The Wild survived a valiant comeback attempt from Helena, which saw the Bighorns erase a 3-1 deficit to tie the game at 3-3 and send the game to overtime, where the Wild eventually won, 4-3.
Gillette took a 2-1 lead in the 1st period with goals from Isaac Young and Saizha Norwegian, while Adam Harvey scored for the Bighorns.
In the 2nd period, the Wild took a 3-1 lead early in the period with a goal from Sky Solig. The Bighorns started their comeback with a goal from Samuel Feamster later in the period to make it 3-2.
With under a minute remaining in the 3rd period, Feamster scored again to knot the game at 3-3 and send it to overtime.
Late in the 1st overtime, a race for the puck saw Declan Young get to the loose puck first as he centered a pass to an open Zack Slinger, who deposited the puck in the net for the game-winner and series lead.
Jake Turek made 48 saves in the win, while Eric Buchholz made 56 saves in the loss.