Friday Finals: Bighorns force Game 3 with overtime win
March 19, 2022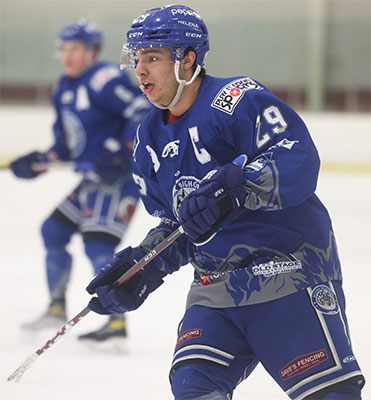 Frontier Division Finals, Game 2: Gillette 3 @ Helena 4 (Series tied, 1-1): The Helena Bighorns forced a game three in the Frontier Division Finals after an 4-3 overtime win against the Gillette Wild. After a scoreless first, the Bighorns netted two goals from Liam Bland in the second period. Gillette answered back to even the game 2-2 with Leighton Weasler and Alex Duchemin. In the third period the Wild took their first lead of the night with Logan Dudinsky scoring for a 3-2 lead. Later in the third, Liam Bland netted a hat trick goal to tie the game 3-3 forcing overtime. In the overtime period, Corbin Skinner scored the game winner for a 4-3 final to force a game three.
West Division Finals, Game 1: Mason City 0 @ Granite City 4 (Granite City leads series, 1-0): The Granite City Lumberjacks blanked the Mason City Toros in game one of the West Division Finals, 4-0. The Lumberjacks took a 2-0 lead in the first period with Brock Masseth (6:59) and Hayden Walters (8:32) scoring. In the second period, Nicholas Richert (5:10) found the back of the net for a 3-0 Lumberjacks lead. In the third period, Carson Van Zuilen (11:42) scored for a 4-0 win for the Lumberjacks. Granite City goaltender Quentin Sigurdson posted an 18 shot shutout in the win.
East Division Finals, Game 1: Danbury 2 @ Northeast 6 (Northeast leads series, 1-0): The Northeast Generals defeated the Danbury Jr. Hat Tricks in game one of the East Division Finals, 6-2. Danbury opened up the game with a goal from Oleg Egorov (2:31). The Generals soon after went to work with Nolan Murphy (7:00) evening the game and then Ayden Frolik (13:37) and Tyler Ramm (13:45) for a 3-1 lead to end the period. In the second, Sean Gorman (2:40) added to the Generals lead, 4-1. In the third, Antonio Felidi (2:45) got the Hat Tricks their second goal of the game. The Generals added two more goals as Caiden Hess and Nolan Zotter scored for a 6-2 final.
Central Division Finals, Game 1: Oregon 1 @ Rochester 5 (Rochester leads series, 1-0): The Rochester Grizzlies defeated the Oregon Tradesmen 5-1 in game one of the Central Division Finals. Grizzlies forward Layten Liffrig netted the first goal of the night for a 1-0 lead. In the second, Kade Shea added to the Grizzlies lead 2-0. The Tradesmen got on the board with Dillon Schmidt (9:32). Cole Gibson answered back for the Grizzlies to make the score 3-1 going into the third period. In the final frame, Ben Oakland and Cole Gibson both scored for a 5-1 win for Rochester.