2022 Fraser Cup faces-off on Wednesday
March 23, 2022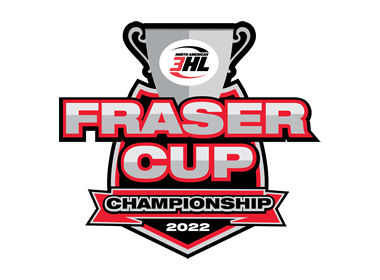 The 2022 NA3HL Fraser Cup Championship faces off on Wednesday, March 23rd and takes place from March 23-27 at the St. Peters Rec Plex in St. Peters, Missouri. Six teams have advanced to the season-ending event, which annually crowns the NA3HL National Playoff Champion.
A round-robin format with two pools will be implemented, with the top two teams in each pool advancing to the Semi-Finals, where they will then cross over to play the other top two teams from the other pool. The winners of the Semi-Finals will advance to the Fraser Cup Championship Game. The six teams that advance to the Fraser Cup Championship Tournament will be seeded 1-6 based on their regular season winning percentage.
Games can be seen live and in HD on HockeyTV
Admission to all Fraser Cup games is free.
For more information about the Fraser Cup, please visit: http://na3hl.com/fraser-cup/
The seeding for the event will be as follows and was based on point totals in the 2021-22 NA3HL regular season standings:
Pool A: #1 Northeast Generals (East), #4 Rochester Grizzlies (Central), #6 Gillette Wild (Wild Card)
Pool B: #2 Granite City Lumberjacks (West), #3 Helena Bighorns (Frontier), #5 El Paso Rhinos (South)
2022 Fraser Cup Championship Schedule (all times Central)
Wednesday, March 23: Rochester Grizzlies vs. Northeast Generals, 4pm | Helena Bighorns vs. Granite City Lumberjacks, 7pm
Thursday, March 24: Gillette Wild vs. Northeast Generals, 4pm | El Paso Rhinos vs. Granite City Lumberjacks, 7pm
Friday, March 25: Gillette Wild vs. Rochester Grizzlies, 4pm | El Paso Rhinos vs. Helena Bighorns, 7pm
Saturday, March 26: Pool A 1st place vs. Pool B 2nd place, 4pm | Pool B 1st place vs. Pool A 2nd place, 7pm
Sunday, March 27: Championship Game, 3pm
The event will be held in cooperation with the first of five 2022 NAHL Combines. Entering its ninth year in 2022, the NAHL Combines introduce and provide players with a weekend that involves the 'NAHL Experience,' which will consist of competitive hockey, education of the future levels of hockey, academic preparation for NCAA hockey and exposure to professional, college and junior scouts.
Past Fraser Cup Champions
2021 North Iowa Bulls
2020 Event Canceled
2019 Texas Brahmas
2018 Metro Jets
2017 Granite City Lumberjacks
2016 North Iowa Bulls
2015 Granite City Lumberjacks
2014 North Iowa Bulls
2013 North Iowa Bulls
2012 Granite City Lumberjacks
2011 Chicago Hitmen
2010 St. Louis Jr. Blues
2009 Dubuque Thunderbirds
2008 Dubuque Thunderbirds
2007 Dubuque Thunderbirds
2006 St. Louis Jr. Blues
2005 St. Louis Jr. Blues
2004 St. Louis Jr. Blues
2003 St. Louis Jr. Blues
2002 Metro Jets
2001 Metro Jets
2000 St. Louis Jr. Blues
1999 Toledo Cherokee
1998 Motor City Chiefs
1997 Toledo Cherokee
1996 Motor City Chiefs
1995 Toledo Cherokee
1994 St. Louis Jr. Blues
1993 Wayne Chiefs
1992 Downriver Blades
1991 Wayne Chiefs
1990 Metro Jets
1989 Lytes Rustlers
1988 St. Louis Jr. Blues