Rochester Grizzlies capture 2022 Fraser Cup National Championship
March 27, 2022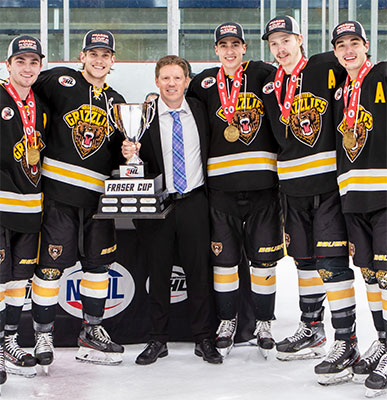 Rochester Grizzlies goalie Zach Wiese saved his best game of the 2022 Fraser Cup for last as he stopped all 29 shots that came his way to lead the Rochester Grizzlies to their first-ever NA3HL Fraser Cup National Championship as they defeated the Granite City Lumberjacks on Sunday, 4-0. The Tournament's Most Valuable Player, Rochester forward Ben Oakland, had a goal in the win and led all players with five points (all goals) in the event.
Midway through the 1st period, the Grizzlies struck for the game's first goal. A shot from the high slot from Lyncoln Bielenberg-Howarth was deflected and as the puck tumbled towards Lumberjacks goalie Quentin Sigurdson, Grizzlies forward Luke Morrisette darted to the bouncing puck and slipped it past Sigurdson for a 1-0 lead.
The 2nd period began with more back and forth action and while the Grizzlies would not convert on the game's first few power plays, they did widen their lead to 2-0 thanks to a 2-on-1 rush as Matthew Shaw slid the puck over to Max Breon, who shot low far side to beat Sigurdson to widen the Grizzlies lead.
The Grizzlies poured it on in the 3rd period to erase any doubt whose day it was as Tournament MVP Ben Oakland scored his fifth goal of the Championship as he got a pass from behind the net and wristed a shot over the shoulder of Sigurdson for a 3-0 lead. Four minutes after that, the Grizzlies made it 4-0 on the power play as Adam Johnson wired in a slapshot from the high slot with assists to Matthew Shaw and Justin Wright.
Wiese's 29 saves were a Tournament-high for the netminder. Granite City goalie Quentin Sigurdson made 29 saves in the losing effort.
NA3HL Fraser Cup All-Tournament Team
Forward: Ben Oakland, Rochester Grizzlies (MVP)
Forward: Hayden Walters, Granite City Lumberjacks
Forward: Justin Wright, Rochester Grizzlies
Defense: Tal Halliday, Granite City Lumberjacks
Defense: Logan Kroyman, Rochester Grizzlies
Goaltender: Eric Buchholz, Helena Bighorns