Norwich forward Schemmel makes college commitment
March 31, 2022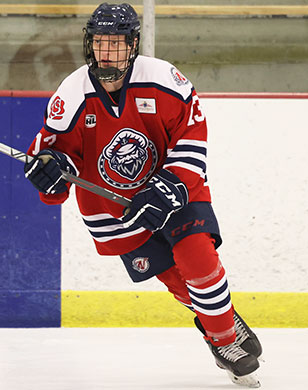 The Norwich Sea Captains of the NA3HL are pleased to announce that forward Drew Schemmel has committed to play ACHA Division I hockey for Lawrence Tech University next fall.
Schemmel, 20, was a key member of the Sea Captains' inaugural team and is the first team member to make a college commitment. After playing eight games for the Dayton Falcons during the 2017-18 season, Schemmel played two years with the Northeast Generals prior to finishing his junior career in Norwich.
In total, he netted 27 goals and dished out 27 assisted to record 54 points in 127 career NA3HL games.
Shemmel was acquired by trade from Northest over the summer and added needed veteran experience along with his speed and skill to the offensive lines. This season he scored eight goals and added seven assists to total fifteen points in 39 games. His six power play points, on the strength of three goals and three assists, ranked third on the team. Schemmel made a fantastic first impression on the Norwich fan base when he scored twice and added an assist in the team's home opener, a 6-3 win over the Bay State Bobcats on October 2.
"My decision to commit to Lawrence Tech was an easy one after visiting campus, Given that I intend to major in communications/broadcasting, seeing the studios and equipment that they have for their students in these majors was a significant draw for me. I am also looking forward to playing hockey for the Blue Devils hockey program, which has been on a steady rise the last few seasons. The staff and coaches are all great people and they are there to make us better players and people," explained Schemmel.
Schemmel continued, "My experience in Norwich was nothing but great. The community welcomed us with open arms and supported our new team all season. I had a fantastic billet family that was always there to support me in every possible way. The friendships I made with all of my brothers, on and off the ice, will last a lifetime. Our team stayed the course through all the ups and downs of our inaugural season and we played our best hockey at the end of the season. I will always be a Sea Captain."
Head coach Kevin Cunningham said, "We were fortunate to be able to add a player with Drew's experience and skill set to our lineup for our first season. Drew brought an intensity to practices and games that helped us establish and foster the type of environment that we want to be synonymous with Norwich Sea Captains hockey. He also did a fantastic job connecting with our community and fan base in a truly genuine way. I am excited for Drew and his family that he has found a great fit that will engage him both academically and athletically. I look forward to following his successes at Lawrence Tech, most specifically on the ice with the Blue Devils."
Lawrence Tech is in Southfield, Michigan and competes in ACHA Division 1. The Blue Devils were ranked #24 in the nation last season. Schemmel will be studying Media Communications.
Click here for an NA3HL college commitment list