NA3HL announces results of 2022 Draft
April 20, 2022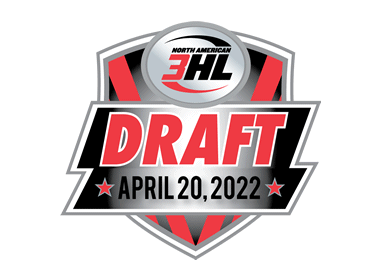 The 2022-23 North American 3 Hockey League (NA3HL) season officially kicked off on Wednesday, April 20th as the league held its annual Draft as the 34 teams made their selections to fill their rosters for the 2022-23 season.
In total, 135 players were selected in the draft, which took just an hour and 42 minutes to complete.
View the results and watch the replay of the 2022 NA3HL Draft at na3hldraft.com
"The NA3HL Draft is an important part of the team-building process and credit to our teams for the work they put this season and during the NAHL Combines in identifying players that could potentially be a part of their plans next season. We have seen time and time again how the NA3HL Draft works for teams and players. For teams, it helps them identify players that fit into their plans and someone they have identified as a player that can make a difference. For the players, this gives them some sense of resolve when they are making their hockey plans for next season," said NA3HL Commissioner Blake Macnicol.
The NAPHL again had a big presence at the NA3HL Draft as 35 NAPHL players were selected, which is almost the same exact number of NAPHL players taken in the Draft last season. The 36 players selected represented 26% of the selections in this year's Draft.
Breakdown of where players played this past season:
High School: 38 (28%)
NAPHL: 35 (26%)
18U: 33 (24%)
Juniors: 17 (13%)
Prep School: 7 (5%)
16U: 4 (3%)
Europe: 1 (1%)
The first selection of the 2022 NA3HL Draft belonged to the Austin Ice Bats but was traded earlier in the day to the Yellowstone Quake. The Quake then selected Wyatt O'Donoghue, a defenseman from the St. Louis Jr. Blues AAA 16U team.
Breakdown of positions drafted:
Forwards: 81 (60%)
Defense: 47 (35%)
Goalies: 7 (5%)
Players not drafted or tendered by NA3HL teams are still able to participate in each team's respective open tryout camps.