Northeast forward Wracker makes NCAA commitment
April 25, 2022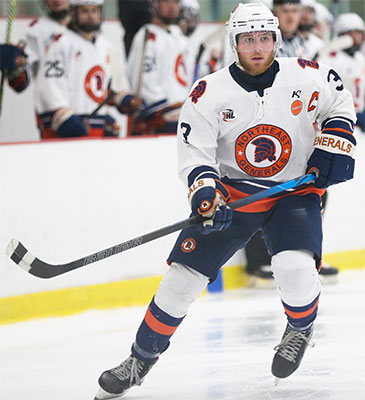 The Northeast Generals of the NA3HL are pleased to announce that forward Nick Wracker has committed to play NCAA Division III Hockey at Saint Michael's College in Vermont.
Wracker, a two-year Captain just finished his third and final year with the NA3HL's Generals and capped off an amazing career in helping the Gens to a historic season.
Wracker joined the Generals in 2019-2020. His first year in the league saw him play in 47 games tallying 21 goals and 22 assists for 43 points. He helped lead the Generals to a then franchise record 40 wins against only 6 losses. The following year Nick would be named Captain and he would continue his strong play with 33 points as he battled injuries, leading the team in the COVID year to a record of 32-9.
And this past year, Nick Wracker helped Captain the 2021-22 squad to a staggering 45-2 regular season record, adding another 33 points. He led the team to their 2nd Fraser Cup in 3 years. In 16 playoff games Nick put up 11 points.
In his 3 year career Nick just won games. His teams finished with a record of 117-17-1. He led the team to two Fraser Cup appearances, was named to the NA3HL Top Prospects Team and won the league's Community Service award 2 times.
"Nick is not just a great hockey player but a great person. His work ethic is second to none and he defined what it means to be a General. He showed up everyday and led by example. He finished every hit, blocked every shot and scored big goals. He was a great Captain for us on the ice, in the locker room and in the community. I couldn't be happier for Nick and his decision to play next year for a fantastic program in St. Michael's," said Head Coach Darryl Locke.
GM Bryan Erikson added, "Nick is why we got into junior hockey. To help hard working, great kids, reach their goals. He did this on his own with his tremendous work ethic, infectious personality and tremendous leadership. Nick did everything Coach Locke or I asked of him. He won awards, he was the first one at the rink and the last one to leave. He set a standard and demanded his teammates live up to it. His legacy here is cemented in a culture of winning. I can't wait to watch Nick at the next level!"
Click here for an NA3HL college commitment list