North Iowa, Mason City forward Campion makes NCAA commitment
May 4, 2022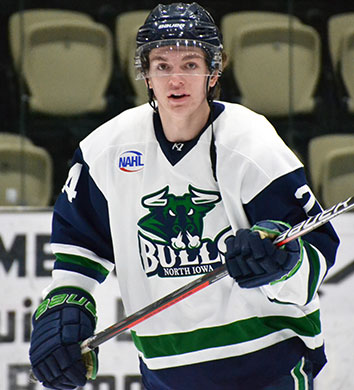 The North Iowa Bulls and Mason City Toros, proud members of the North American Hockey League (NAHL) and North American 3 Hockey League (NA3HL), are excited to announce that forward Jack Campion has committed to the NCAA Division III hockey program at St. Mary's University, a member of the Minnesota Intercollegiate Athletic Conference (MIAC).
The Crystal, Minnesota native is another example of the NAHL and NA3HL's Ladder of Development at work, joining the North Iowa roster in the NA3HL in October of 2020. He immediately became an impact player for the Bulls, scoring his first junior goal against the Willmar WarHawks in just his third shift as a Bull. He would post a point per game in 33 regular season appearances for North Iowa during the 2020-21 campaign, and came up big again in the team's run to a Fraser Cup title that April. Of his five points in that Fraser Cup tournament, three were goals, two of which were game-winners.
Campion started the 2021-22 season at the NA3HL level with the newly-rebranded Toros, and started quickly once again, with 10 goals in his first 10 games and markers in 23 of 27 overall before earning an NAHL call-up to the Bulls just before the Christmas break. He scored his first NAHL point in only his third game, notching an assist December 17 against the Bismarck Bobcats, and posted his first NAHL goal January 27 with a power play tally against the St. Cloud Norsemen.
In all, Campion posted three goals and 13 assists in the NAHL level, and chalked up 105 total points in 97 games with the Bulls and Toros. Even with only 27 games under his belt this NA3HL season, his 56 points were enough for a third-place finish on the Toros' roster in that department.
Campion becomes the Bulls' seventh player all-time to commit to St. Mary's, and the first to do so during the team's NAHL tenure. He joins a team that finished the 2021-22 season with an 8-14-1 record under former NAHL and NA3HL coach Ryan Egan. He is also set to reunite with defenseman and North Iowa teammate Cal Nauss, who led the Cardinals' defensive corps this past season with eight points as a freshman.
"The coaching staff there is awesome. The coaches are great guys, and they've been around the hockey world, so they know how to do things the right way," said Campion. "The school has a lot of great programs that interest me, and the academics are very appealing with how well their students do after graduating. The campus is extremely nice, and the whole area around it seems like a great place to be, and the locker room and facilities that the hockey team has access to are second to none. It really seems like a place where I can grow tremendously as a person, a student and a player."
Campion says he is considering pursuing a finance degree, but is also weighing a degree in business analytics.
Click here for an updated NAHL to NCAA commitment list
Click here for an NA3HL college commitment list