NAHL adds Dennis Vickers and Christian Larson to staff
June 13, 2022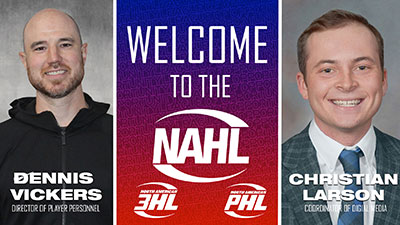 The North American Hockey League (NAHL) is pleased to announce the additions of Dennis Vickers and Christian Larson to the league staff. Vickers will serve as the Director of Player Personnel, while Larson will serve as the Coordinator of Digital Media.
Vickers has spent the last 15 years working in hockey and more specifically, the last 10 years working in prep school hockey. Since 2012, Vickers has been the Director of Hockey Operations and Head Coach for the Rice Memorial Prep Hockey Team in South Burlington, Vermont. In that time, he accumulated almost 200 wins and was the 2018-19 MPHL Coach of the Year.
After his playing career ended at Saint Mary's University in Minnesota, Vickers attended Miami (OH) University. At Miami University, Vickers served as a Graduate Assistant where he coached the ACHA team and worked closely with the team and staff of the NCAA Division I program. After going to back-to-back ACHA National Tournaments and completing his master's degree in Sport Behavior and Performance (Sport Psychology), he moved to Nashville to take over as Director of Hockey Operations for the Nashville Predators Youth Organization. Vickers is a USA Hockey Level IV coach and has coached every level from youth hockey to college. He has also worked a variety of USA Hockey National Select Camps and worked with USA Hockey's Youth Development staff.
"Dennis has a long history of working hard for teams, players, and associations. He has extensive experience as a coach, recruiter, and administrator. These characteristics along with being professional, organized, and his commitment to develop hockey players made him a great choice for the position," said NAHL Commissioner and President Mark Frankenfeld.
Larson previously served the role as Gameday Content Intern for the NAHL, with duties that include writing stories of player advancement, filming live coverage of NAHL events, and posting on social media. Prior to the NAHL, he worked for Wave Sports and Entertainment as a content manager, creating and posting digital media content to social media channels. Originally from Fargo, North Dakota, Larson graduated from the University of Minnesota in Minneapolis, Minnesota with a Bachelor of Arts in Strategic Communications in the fall of 2021.
"Christian is another great addition to our media and communications department. We have seen his work over the past season as an intern and he has proven himself as someone who can help add variety and content to our marketing initiatives for the NAHL, NA3HL, and NAPHL. We are always looking for new and increasing ways to celebrate our players and Christian will immediately help us do that," said Frankenfeld.