Texas Brahmas defenseman Palfy makes NCAA commitment
June 14, 2022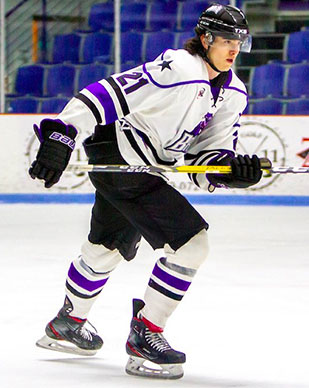 The Texas Brahmas of the NA3HL are pleased to announce that defenseman Matej Palfy has committed to play NCAA Division III hockey for The College of St. Scholastica
Since 2019, this three-year player has made 126 regular season appearances for the Texas Brahmas. Palfy, 21, earned another 20 appearances in the NAHL for the Lone Star and Amarillo Wranglers in the 2021-22 season, cementing his standing as a team leader and fan-favorite big man on the blue line worker.
The 6'8/225 lbs. native of Kosice, SVK delivered 101 total points during the regular season wearing the Texas Brahmas uniform. A dominant presence on the scoring leaderboard every season, the Saints commit demonstrated uncommon agility for such a sizable frame.
This past season, Palfy appeared in 12 regular season games for the NA3HL's Brahmas and recorded seven points. In 20 NAHL regular season games between Lone Star and Amarillo, he had two goals.
When reached for comment, Brahmas Hockey President Frank Trazzera was happy to hear this news. "That's awesome for the big guy!" said Trazzera.
"Matej is not only a great hockey player, but a great person," said Texas Brahmas head coach Nick Cammarata."He stood up big time towards the end of the season and is was a leader on and off the ice. The type of player you want on the ice during the last minute of a close game; it was a pleasure coaching him, and he is going to be a great asset for St. Scholastica."
Texas Brahmas' HockeyTV Play-by-Play announcer Patrick Bielss was also quick to respond for comment on this success story about Matej Palfy's impact on the NA3HL-NAHL Ladder of Development. "Seeing the improvement from season to season was pretty incredible!" said Bielss. "In his first season playing in the NA3HL, he was already a big body with a killer slapshot and could knock anyone down, but he experienced adversity in keeping up with the play in both directions down the ice. However, by his third year it was clear to see that he was one of the top skaters on the team."
Lone Star Brahmas Associate Head Coach and Texas Brahmas GM Ryan Anderson said of Palfy, "This is a great day for Matej and his family! I couldn't be more proud and happy for him. Matej has spent 3 years in Brahmaland and has been an instrumental piece to our success at the 3HL level. He was a core member of our 2019 Fraser Cup Championship team as well as our 2020 Regular Season Championship. The growth in his game during his time here is a testament to his hunger to improve and get to the next level. Matej has left his legacy on our program and it will be felt for many many years. We are very excited to watch his continued growth and St. Scholastica and wish him nothing but the best in the next step of his life."
Click here for an NA3HL college commitment list