Danbury Jr. Hat Tricks complete purchase of membership
June 17, 2022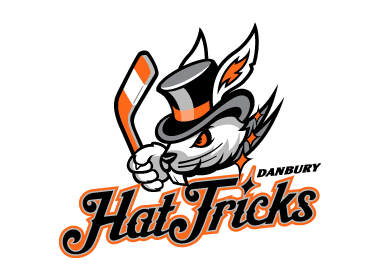 The North American Hockey League (NAHL) has announced that the Danbury Jr. Hat Tricks of the NAHL's East Division have completed a purchase of their membership with the WBS Knights.
Back on May 11, 2020, the NAHL Board of Governors approved the relocation of the Wilkes-Barre/Scranton Knights to Danbury, Connecticut, where they have played since as the Danbury Jr. Hat Tricks with teams in both the NAHL and NA3HL the past two seasons.
The Danbury Jr. Hat Tricks are owned by the Danbury Hat Tricks, LLC, consisting of Jim Diamond, Bill Diamond, Chris Buonanno, Billy McCreary, Jarrod Moses, Herm Sorcher, and former NHL'er Colton Orr.
Team President/Ownership Partner, Herm Sorcher commented, "We are very excited to continue our run in the North American Hockey League and officially complete our ownership transaction. We have had a vision and a path for our organization that started in 2019 when we purchased the Danbury Ice Arena. This adds to that plan and puts us on track to be a premier destination for the top Junior level players in the country."
During the past two seasons, the Jr. Hat Tricks have posted a 32-69-13 record in the NAHL. Danbury has had a team in the NA3HL the past three seasons with a combine record of 74-51-5 in that time frame.
"We want to thank the Wilkes-Barre/Scranton Knights ownership and management group for their commitment to the NAHL both on the ice and for their efforts to keep the team in the East. They are a class act and we will miss them," said NAHL Commissioner and President Mark Frankenfeld. "With that said, we are excited for the Jr. Hat Tricks ownership group in continuing to build great NAHL products in Danbury that provide players the opportunity to advance to college."
The Danbury NAHL team is under the direction of head coach Billy McCreary, who will be entering his third season behind the bench and who himself is an NAHL graduate. He played junior hockey in the NAHL for the Texas Tornado and amassed 45 goals and 71 assists in 98 career games. He was named to the All-Rookie team and a First Team All-Star during the 2002-03 season.
"We are honored to continue our tenure in the North American hockey League. Since our inception in 2019, we have had the opportunity to help hundreds of hockey players progress through the Junior, College, and Pro ranks. Solidifying our future in the NAHL allows us to continue to build the leaders of tomorrow, on and off the ice," said McCreary.