NA3HL sets new standard for advancement to NAHL
June 24, 2022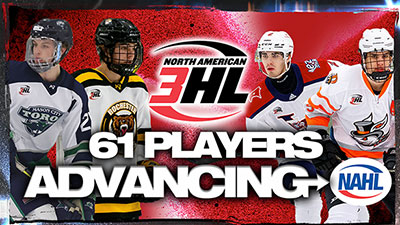 The North American 3 Hockey League (NA3HL) is pleased to announce that it is has once again set a new standard for player advancement to the North American Hockey League (NAHL) thanks to some record-setting numbers on the heels of the completion of the 2022 NAHL Entry Draft, which took place on Wednesday, June 15th.
Not only did 34 NA3HL players sign a tender to play in the NAHL for the upcoming 2022-23 season, but 27 more players were selected in the 2022 NAHL Entry Draft.
No other league has had more movement and advanced more players onto play in the NAHL than the NA3HL. Thanks to additional and enhanced initiatives that have been in place for the past few years in cooperation with the NAHL, more players from the NA3HL play, practice, and earn NCAA Division I scholarships with the NAHL than any other league.
"It is such an opportune and wonderful time to be involved and playing in the NA3HL. This season saw continued exposure initiatives that were put in place several years ago designed for NA3HL players to advance to the NAHL and beyond. These initiatives have increased the advancement numbers and provided an additional development path for those players in the NA3HL. The NA3HL enjoys all the same events that the NAHL does and has great owners and coaches. We all share in the common mission of creating an enhanced level of play and competition that is focused on a player's development and advancement," said NAHL Commissioner and President Mark Frankenfeld.
The NA3HL not only saw 61 of its players tendered or drafted by NAHL teams, but over 60 NA3HL alumni played in the NAHL this past season. The NA3HL also saw five current or former players make NCAA Division 1 commitments this past season.
The NA3HL is the only USA Hockey-certified Tier III junior hockey league and the only league that has an exclusive NAHL tendering system available only to NA3HL players. The tendering and draft pick process selections play a big part in the eventual advancement of players each season.
"NA3HL players are getting called up, playing, affiliated, and practicing on a regular basis with NAHL teams and we have seen so much interaction with the two leagues that it has built momentum to lead into what took place during the NAHL Draft," said NA3HL Commissioner Blake Macnicol. "We are also continuing to ensure that the competition and league-wide events remain at the highest level, while also maintaining a focus on educating our players about NCAA compliance and the importance of education."
As part of the enhanced initiatives that have now been in place for multiple seasons, all NAHL teams engaged and worked in cooperation with NA3HL teams for increased access to players, including allowing NA3HL players to practice with NAHL teams during the season. The program created additional dialogue between NAHL and NA3HL teams to find prospects and provide them an in-season opportunity for NAHL experience and evaluation. Its direct benefits are resulted in one-of-a-kind opportunities not found anywhere else in USA Hockey-sanctioned junior hockey.
The NA3HL also continues to make its mark and is one of the leaders in junior hockey with the advancement of players onto the NCAA. So far in 2022, the NA3HL has over 70+ college commitments, with over half of those being NCAA commitments. In addition, over 300 former NA3HL players are currently playing in the NCAA, and 26 former NA3HL are currently playing NCAA Division I hockey.
Click here for a list of 2021-22 NA3HL tenders
Click here for the 2022 NAHL Entry Draft results
NA3HL Players selected in the 2022 NAHL Entry Draft
Tory Lund, F, Minot Minotauros, Round 2, #50 (Granite City Lumberjacks, 2021-22)
Joseph Arnold, F, Chippewa Steel, Round 4, #92 (Skylands Kings, 2019-20)
Connor Thompson, F, Bismarck Bobcats, Round 4, #98 (El Paso Rhinos, 2021-22)
Nathan Stone, F, Fairbanks Ice Dogs, Round 4, #111 (Milwaukee Power, 2020-22)
Erik Chaffe, G, North Iowa Bulls, Round 5, #121 (Mason City Toros, 2021-22)
Jack Herron, F, Odessa Jackalopes, Round 5, #128 (Texas RoadRunners, 2021-22)
Per Waage, F, Austin Bruins, Round 5, #130 (Rochester Grizzlies, 2020-22)
Caden Butler, F, Oklahoma Warriors, Round 5, #141 (El Paso Rhinos, 2021-22)
Reese Tamburo, F, Danbury Jr. Hat Tricks, Round 6, #146 (Danbury Jr. Hat Tricks, 2021-22)
Sky Solig, F, Kenai River Brown Bears, Round 6, #147 (Gillette Wild, 2021-22)
Nik Howell, F, Chippewa Steel, Round 6, #151 (Mason City Toros, 2021-22)
Mike Harrel, D, Minot Minotauros, Round 6, #155 (Louisiana Drillers, 2021-22)
Zach Vockler, F, Aberdeen Wings, Round 6, #158 (Badlands Sabres, 2021-22)
Brian Essing, F, Shreveport Mudbugs, Round 6, #164 (Norwich Sea Captains, 2021-22)
Kaiden Hafele, D, El Paso Rhinos, Round 7, #177 (El Paso Rhinos, 2021-22)
Cade Wessman, F, Maine Nordiques, Round 7, #181 (Butte Cobras, 2021-22)
Kade Shea, F, Anchorage Wolverines, Round 7, #195 (Rochester Grizzlies, 2021-22)
Patrick Toomey, F, Johnstown Tomahawks, Round 7, #196 (Milwaukee Power, 2021-22)
Braeden Kennedy, F, Amarillo Wranglers, Round 8, #211 (Northeast Generals, 2020-22)
Logan Kroyman, F, Maryland Black Bears, Round 9, #248 (Rochester Grizzlies, 2020-22)
Antonio Morran, D, New Jersey Titans, Round 9, #259 (Norwich Sea Captains, 2021-22)
Matthew Nuzzolilo, F, Northeast Generals, Round 10, #278 (Northeast Generals, 2021-22)
Jacob Hicks, D, Minnesota Wilderness, Round 10, #279 (Granite City Lumberjacks, 2020-22)
Josiah Gronholz, F, St. Cloud Norsemen, Round 10, #289 (Alexandria Blizzard, 2021-22)
Charles Larsen, D, Wisconsin Windigo, Round 11, #299 (Alexandria Blizzard, 2021-22)
Keegan McArthur, F, Lone Star Brahmas, Round 12, #348 (Texas Brahmas, 2021-22)
Jeremiah Konkel, F, Springfield Jr. Blues, Round 16, #458 (Willmar WarHawks, 2020-22)