August 19, 2022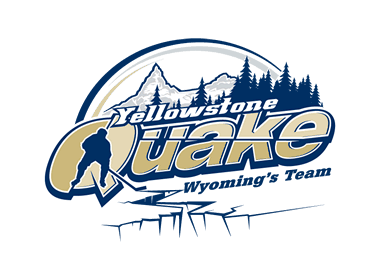 The 3View series will feature an in-depth look into all NA3HL teams in preparation for the 2022-23 season, with two teams being highlighted daily, leading all the way up until the start of the regular season. 3View goes in-depth into each NA3HL team and will include interviews with all the head coaches in the NA3HL, as they provide fans with their expectations and outlook for the 2022-23 season, including taking a look at their potential roster and their strengths as a team for the upcoming season. It will also take a look back on the 2021-22 season and how each team fared and what they accomplished. Best of all, 3View will provide the fans of the NA3HL with an inside look at their favorite team and what to expect.
Yellowstone Quake
2021-22 Record: 13-31-3, 29 pts. (7th in Frontier Division)
2022 Playoffs: Did Not Qualify
Head Coach: Chris Blaisius
2022-23 Division: Frontier Division
After falling short of the playoffs for the 4th consecutive season, the Yellowstone Quake's newly appointed head coach, Chris Blaisius, is looking for a fresh start in this upcoming 2022-23 season.
"The main objective is in recruiting good quality character players to help turn the culture around both on and off the ice," Blaisius said.
After making the playoffs three consecutive seasons from 2015-17, the Quake have failed to participate in a playoff game since (qualified in 2020 playoffs but did not play) and want to return to winning ways.
Having a small group of returning players from the 2021-22 season, Blaisius and the rest of the staff will be relying upon young new talent and a few familiar veteran faces to bolster their roster and fulfill their playoff aspirations.
"Gabe Coppo, one of our leading scorers from last season, will be looked upon to carry a large load offensively. We acquired Sebe Perez from El Paso. We will lean on his experience playing on a playoff team to help rebuild the culture. Edvin Falkenstrom will return, providing a strong veteran presence in net."
Falkenstrom, a 2nd year import out of Sweden, had a quality first season and is looking to continue that success this year. Despite having a losing record, he finished fifth in save percentage across the league with a .936 SV%. Coppo is heading into his 3rd season in the NA3HL and is working to build upon another point-per-game average season, boasting 41 points in 41 games in 2021-22.
"Our mindset as a staff and organization is that this is a new beginning, a fresh start. With the group of players we have coming in, we intentionally have put together a young, talented, motivated group of players that will come in each day and work hard and try and get better each day."
Yellowstone acquired the 1st and 3rd overall picks of the 2022 NA3HL draft from the Austin Ice Bats and Sheridan Hawks and are looking to utilize those pieces to fill out the young roster. Their first overall draft pick Wyatt' O'Donaghue, an 05' defenseman coming out of the St. Louis Blues 16U AAA program, "will be looked upon to anchor the blueline" for the Quake.
After a few down years for the Quake on the ice, Blaisius is looking to turn things around both in advancement and in the standings.
"I come from successful organizations and will apply and learn from my previous head coaching experience in the 3HL in Willmar and Rochester to help rebuild the Quake organization and get them back to the playoffs and Fraser Cup. My path to Yellowstone was an opportunity to not just get back behind the bench, but an opportunity to lead an established organization and get the Quake back to being one of the premier franchises in the NA3HL".
After a tough year, the Quake are ready to hit the reset button ahead of the 2022-23 season, and have their sights set on challenging for the Fraser Cup.
Next Up: Willmar WarHawks