August 20, 2022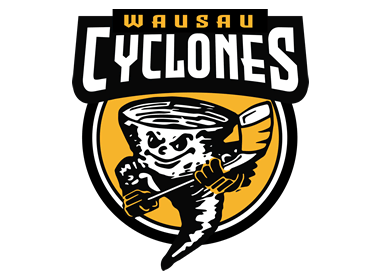 The 3View series will feature an in-depth look into all NA3HL teams in preparation for the 2022-23 season, with two teams being highlighted daily, leading all the way up until the start of the regular season. 3View goes in-depth into each NA3HL team and will include interviews with all the head coaches in the NA3HL, as they provide fans with their expectations and outlook for the 2022-23 season, including taking a look at their potential roster and their strengths as a team for the upcoming season. It will also take a look back on the 2021-22 season and how each team fared and what they accomplished. Best of all, 3View will provide the fans of the NA3HL with an inside look at their favorite team and what to expect.
Wausau Cyclones
2021-22 Record: 21-24-1-1, 44 pts. (4th in Central Division)
2022 Playoffs: Lost to the Rochester Grizzlies in Central Division Semi-Finals, 2-0
Head Coach: Colin Bailey
2022-23 Division: Central
Entering his fourth season with Wausua, Colin Bailey's team exceeded expectations in their 2021-22 campaign. Picking up 21 wins and securing the fourth spot in the Fraser Cup playoffs, a first showing in the postseason in franchise history, Bailey is ready for the upcoming season.
"Looking back at last season, the team could not have surpassed our expectations any more than it did during our first year as the rebranded Cyclones [formally the Riverwolves]," Head Coach Colin Bailey said. "The team finished with an extremely competitive 21-24-1-1 record and the first playoff berth in franchise history. We averaged over 400 fans per game with multiple games at standing room only. The support from the community couldn't have been better and during our first season as the Cyclones, we accomplished everything that we hoped for in order for us to continue to be a pillar in this league and community for many years to come."
The Central Division, which is home to the 2022 Fraser Cup Champion Rochester Grizzlies, is a tough division to make your way to the Fraser Cup. For the Cyclones to continue the success they left from last season, it's going to take determination once again.
"We're very fortunate to be a part of the central division, which in my opinion is really solidifying itself as one of the top divisions in tier 3 hockey. The great thing about our division is that any given team can win on any given night and we always need to show up. There are no nights off and from top to bottom, no matter who you are playing, you can expect a hard fought, high paced hockey game. Our players really benefit from this and I believe it really helps them as they move on to the next level."
The Cyclones will return their top two forwards with Gage Vierzba (12-17-40 PTS) and Hayden Shoemake (15-19-34 PTS) will be keys to their offensive game. Defensively Blake Neil (3-8-11 PTS) will help out on the backend, plus the addition of new faces for the Cyclones.
"Look for incoming players Ricky Nelson, Matthew Witt, Carson Liebaert, and Isaac Baker to make impacts for us during their inaugural seasons of junior hockey," Bailey said.
Player development and advancement is key for the Cyclones. Last season the team saw five players commit to play college hockey.
"We were able to see five of our players continue their education and hockey careers at the ACHA Division I level and we hope to see even more continue their goals and dreams of playing college hockey this season," Bailey said. "It's a great feeling to see these players commit and to help them along in their journey. These guys have worked towards this goal since they've started playing and for us to be an integral part of that process is a great feeling and we look to continue to solidify ourselves as a place where players can move on to the next level."
With the foundation set last season, the Cyclones look to build off of that and make the push even further towards the Fraser Cup this year.
"Looking forward to this season, we expect to pick up right where we left off and hit the ground running into the season. With a large veteran presence, we hope for those players to help lead our incoming players with the transition into junior hockey. Every day has its ups and downs and it is a long season, but I have high hopes for this group to make an impact in the extremely competitive division that we are in," Bailey said.
Next up: Texas RoadRunners