August 23, 2022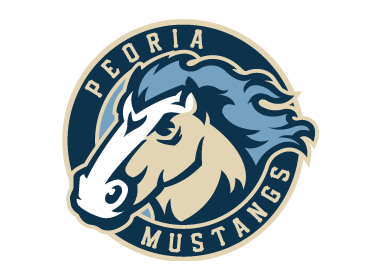 The 3View series will feature an in-depth look into all NA3HL teams in preparation for the 2022-23 season, with two teams being highlighted daily, leading all the way up until the start of the regular season. 3View goes in-depth into each NA3HL team and will include interviews with all the head coaches in the NA3HL, as they provide fans with their expectations and outlook for the 2022-23 season, including taking a look at their potential roster and their strengths as a team for the upcoming season. It will also take a look back on the 2021-22 season and how each team fared and what they accomplished. Best of all, 3View will provide the fans of the NA3HL with an inside look at their favorite team and what to expect.
Peoria Mustangs
Head Coach: Steve Ortman
2021-22 record: 47 GP, 32-10-5, 69 pts. (2nd in the Central Division)
2021-22 leading scorer: Ethan Chesney (51 points)
2022 Playoffs: Lost to Oregon in Central Division Semi-Finals, 2-0
2022-23 Division: Central
The Peoria Mustangs are coming off a strong season in 2021-22, finishing 2nd within the regular season and making it all the way to the Central Division Semifinals where they came up short against the Oregon Tradesmen.
For the past two years, Peoria was able to finish 2nd within its respective division, and the plan for this year is to finally get over the hump, but in order for that to happen they have to make it out of a very tough Central Division that has many of the league's top talent.
"Our compete level and playing a 60-minute game will be key. That will have to start game one and practice one and continue through the entire season. It will need to be a high-speed complete game every night to compete in this very tough division," said head coach Steve Ortman.
One of the top priorities for a coach each year is getting their players to the next level, and Peoria was able to do that this past year with Thomas Kayner, Jared Wisely, Hubert Guzy, Nahuel Veyan, Jackson Gram, and Andrew Doran all earning college commitments and will be moving on to pursuing their college hockey careers.
"Thomas Kayner will be attending Liberty University (ACHA D1). He is a very motivated competitor that will have great success at the next level. Jared Wisely, Hubert Guzy, and Nahuel Veyan will all be attending Midland University (ACHA D1) and will have very successful college careers with their motivation and worth ethic. Jackson Gram will be attending Illinois State University (ACHA D2). Lastly, Andrew Doran will be attending Utica College to play (Division III NCAA) hockey as his work ethic is second to none and he is the ultimate competitor and teammate," said Ortman.
The NA3HL has been known to move its players up the junior hockey ladder such as pushing players to the North American Hockey League (NAHL).
The Peoria Mustangs were able to do that as a notable alumnus who played in the NAHL this past season was Dillan Bentley. He played for the Peoria Mustangs during the 2019-20 season and then moved on to play for the New Mexico Ice Wolves, where this season he was able to punch a ticket to the Robertson Cup Championship and then went on to receive a Division I NCAA commitment from Umass Lowell where he will be a freshman with the River Hawks this upcoming season.
"It's obviously a big accomplishment for Dillan and we are extremely proud of him. He is beyond deserving of that commitment to Umass Lowell and we know they are getting an incredible hockey player as well as a great person. Dillan bought into the process and put in hours of work on and off the ice proving that the ladder of development through the NA3HL to the NAHL is a very successful path for young hockey players," said Ortman.
Ortman and the Mustangs are coming into the 2022-23 campaign with a veteran group where they have 14 returning players from last year including their leading scorer in Ethan Chesney. The club also went out and acquired a goaltender that will be between the pipes this season for the Mustangs such as Camden Pendleton where he has some NA3HL experience with the El Paso Rhinos. Peoria will be looking to lean on that core group in pursuit of making a run at the league's title.
"Ethan Chesney who spent time with Springfield last season in the NAHL. Tristan Trudel who is a very big body that is no stranger to putting the puck in the net. Jaycob Bland who will be bringing 4 years of experience and carries the pace of the game with his speed. On the back end we are looking for Sean Patrick Merck to have a huge role for us on and off the ice as well as Justin Hubble who had great numbers his rookie season. In net we acquired top prospect goaltender Camden Pendleton in a trade from the El Paso Rhinos. We are looking for him and veteran Joe Ambroffi to Be a great 1a 1b goalie tandem. Our Goal as always is to win a championship and develop these players to help them reach their goals of playing at the next level," said Ortman.
Next Up: Oregon Tradesmen