3View: Northeast Generals
August 24, 2022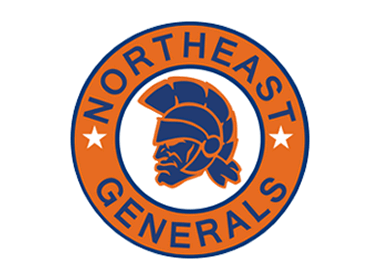 The 3View series will feature an in-depth look into all NA3HL teams in preparation for the 2022-23 season, with two teams being highlighted daily, leading all the way up until the start of the regular season. 3View goes in-depth into each NA3HL team and will include interviews with all the head coaches in the NA3HL, as they provide fans with their expectations and outlook for the 2022-23 season, including taking a look at their potential roster and their strengths as a team for the upcoming season. It will also take a look back on the 2021-22 season and how each team fared and what they accomplished. Best of all, 3View will provide the fans of the NA3HL with an inside look at their favorite team and what to expect.
Northeast Generals
2021-22 Record: 45-2-0, 90 pts. (1st in East Division)
2022 Playoffs: Won the East, Lost to Granite City in Fraser Cup Semi-Final
Head Coach: Darryl Locke
2022-23 Division: East
After a disappointing finish to a historic season, the Northeast Generals are hungry to fill their shelves with some hardware. Their league-best and franchise record-breaking 45-2 regular season gave the fans a season to remember, but head coach Darryl Locke believes last year has set the tone for this upcoming season to give the players and fans even more.
"We had a goal last year and it was to win the Fraser Cup. We fell just a bit short, but it was a remarkable season and a great group of kids. We want to outwork everyone we play and we want to win and I think last year's group helped pave the way for this year's team," said Locke.
The Generals have stood atop their division standings in the regular season for the past three years, even going undefeated against their division this season, proving they are a powerhouse in the East Division. Along with the success from a team perspective, the club has proven its a hotspot for development and player advancement.
In the 2021-22 season, Northeast produced four college commitments. In the past three seasons, 15 Generals have moved on to play collegiate hockey. When asked about the importance of player advancement Locke said, "This is why we do it. To advance kids to the next level. The ownership group has been steadfast in their commitment to the ladder of development. They want to promote from within and have entrusted me with helping the players develop."
The Generals have many familiar faces returning to the ice this season, highlighted by their 58 point-getter Matthew Nuzzolilo. " Matt was drafted by the NA team and will get some opportunities there but will start with us. Last year he was 2nd on our team in scoring with 58 points and 7 Short Handed Goals. We think Matt can bring his game up even higher."
Other important returners include Sean Gorman who had 43 points and seven shorthanded goals, Nolan Zotter, Mike Locke, and netminder Luke Fundator. It's clear that the Generals have a strong core to take into this upcoming season.
Coach Locke and the Generals know the challenges of playing in the East Division, despite their recent history of success. "The East Division improves every year. Every night is a battle. The league was incredibly overlooked in the last few years but colleges are really starting to realize just how good our league and division are."
With that being said, confidence in the organization and team is sky high. "Our goal is to go undefeated in our division again this year and to reach and win the Fraser Cup Championship. That is our mission from day one of training camp."
Northeast will kickoff their 2022-23 season on the road against the Danbury Jr. Hat Tricks on September 4th.
Next Up: New Ulm Steel