3View: New Mexico Ice Wolves
August 25, 2022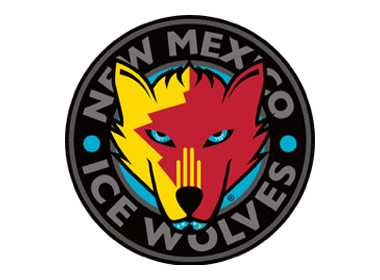 The 3View series will feature an in-depth look into all NA3HL teams in preparation for the 2022-23 season, with two teams being highlighted daily, leading all the way up until the start of the regular season. 3View goes in-depth into each NA3HL team and will include interviews with all the head coaches in the NA3HL, as they provide fans with their expectations and outlook for the 2022-23 season, including taking a look at their potential roster and their strengths as a team for the upcoming season. It will also take a look back on the 2021-22 season and how each team fared and what they accomplished. Best of all, 3View will provide the fans of the NA3HL with an inside look at their favorite team and what to expect.
New Mexico Ice Wolves
2021-22 Record: 33-12-2, 68 pts. (2nd in the South Division) *As Oklahoma City
2022 Playoffs: Lost to El Paso in the South Semi-Finals, 2-1 *As Oklahoma City
Head Coach: Darren Banks
2022-23 Division: South
The Ice Wolves, the newest member of the NA3HL, will kick off their inaugural season in 2022-23 in Albuquerque, New Mexico playing out of Outpost Ice Arena. The same building is home to the North American Hockey League's, New Mexico Ice Wolves. On the heels of announcing the team, the Ice Wolves have named Darren Banks as Head Coach and General Manager.
"We are excited for our first year in the NA3HL," Darren Banks said. "I look forward to building on the winning culture that has been established by the New Mexico Ice Wolves (NAHL) team and using my coaching and recruiting experience to add to the ladder of development for hockey in New Mexico."
Banks, who has a long resume in hockey, has spent time playing in the NA3HL (Gillette Wild), NAHL (Minot), NCAA (Finlandia University) and ACHA (University of Utah). Banks began his coaching career in junior hockey and then from there Banks returned to Minot as Assistant Coach and Scouting Director.
"My time in Minot was a great experience, it is a great organization with a long tradition of success," Banks said. "Learning under Cody Campbell and Shane Wagner was a great experience."
Having use of the same building, and a team in the NAHL, the Ladder of Development that the NA3HL and NAHL stand by will be a tremendous asset to the Ice Wolves this season. With NAHL success from the NAHL Ice Wolves, who made a trip to the Robertson Cup and were champions of the South Division, the NA3HL Ice Wolves will have a winning culture and access to players to develop up and down the pipeline for years to come.
"Having an established NAHL team here is a great opportunity for our players," Banks said. "This franchise has had a lot of success finding players in the NA3HL and having that in house will add to that ability. Whether our players are looking to gain a college opportunity or move up the ladder into the NAHL. New Mexico has a proven track record of player development."
Outpost Arenas facilities are top-notch for players at all levels. With the team's world class Hockey Speed Gym, which was created by USA Hockey Legend Jack Blatherwick, and a mix of unique training rinks that provide development tools for all players who enter the facility. With culture that has been already laid, and the culture Banks wants to instill to players coming in this season will understand what it means to be an Ice Wolf on and off the ice.
"The most important things we have looked for in players coming to New Mexico is character and compete level. We are excited for our group this year and to continue the tradition of "In Albuquerque we work" at the 3HL level," Banks said.
The Ice Wolves will open their inaugural season against the El Paso Rhinos on September 23rd at the El Paso County Events Center.
Next Up: New Jersey Titans