3View: Louisiana Drillers
August 28, 2022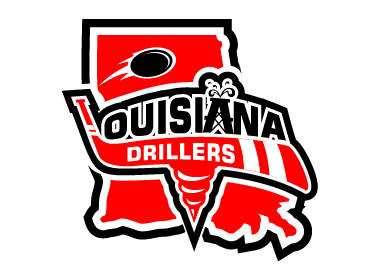 The 3View series will feature an in-depth look into all NA3HL teams in preparation for the 2022-23 season, with two teams being highlighted daily, leading all the way up until the start of the regular season. 3View goes in-depth into each NA3HL team and will include interviews with all the head coaches in the NA3HL, as they provide fans with their expectations and outlook for the 2022-23 season, including taking a look at their potential roster and their strengths as a team for the upcoming season. It will also take a look back on the 2021-22 season and how each team fared and what they accomplished. Best of all, 3View will provide the fans of the NA3HL with an inside look at their favorite team and what to expect.
Louisiana Drillers
2021-22 Record: 21-22-4, 46 pts. (5th in South Division)
2022 Playoffs: Did Not Qualify
Head Coach: Rob Weingartner
2022-23 Division: South
After joining the organization late last season, head coach Rob Weingarter was able to step behind the bench and create a framework to succeed as a team and advance players to the next level.
"I felt it was important to start coaching the team late in the season, it helped with identifying players, introducing systems as well as building trust for the next season," said Weingartner.
The Drillers finished in 5th place with a record of 21-22-2-2 and did not get an opportunity to play for the Fraser Cup. This season, Weingarter and the Drillers are prepared for another difficult season in the South Division and are ready to go in September.
The Drillers are heading into their eighth season as a member of the NA3HL and want to make it a memorable one. Weingartner and the rest of the coaching staff want to emphasize that for the players, hard work and dedication to improvement is a core foundation for success.
"The team will be built around hard work, attention to detail and remaining positive. We will play a high pace discipline style with focus on strong systems and try to build the team around those attributes."
Despite losing their top three scoring leaders, the staff has a lot to be excited about in their returning players and offseason additions. Weingartner spoke highly of the players returning for another season.
"Returners, assistant captain Thomas Mougin (16-28-44 PTS), Jack Lambert (14-28-42 PTS) and Mason Wilbur (11-19-30 PTS) will be sure to push the offense and expect Bobby Hoskins (8-4-12 PTS) and Aiden Fontenot (2-2-4 PTS) to contribute more offensively this season. On defense, we returned 4th year player and team captain Frank Steinway (6-35-41 PTS), assistant captain Tyler Walker (6-12-18 PTS) and Cody Compton (2-4-6 PTS). In goal, we re-signed John Moriarty (1-1, 3.06 GAA, .906 SV%), he only played 2 games but did a great job, we loved his compete level and expect a big final junior year out of him."
Having confidence in their 2022-23 roster is key when entering a new season in the difficult South Division. Weingartner has a good mindset on how to approach the division and ultimately come out on top.
"The biggest advantage in playing in the South Division is every night is a challenge. Just getting out of the South Division will be a struggle, the Texas Brahmas are consistently at the top of the division, the same for El Paso since they have joined the division. I expect the Texas Roadrunners to have another strong team as well as newcomers New Mexico. I'm sure Austin and Mid-Cities will have a stronger year and I've seen coach Bowkus of the Atlanta Capitals all summer on the recruiting trail, so I'm sure we will see improvement. I feel the biggest advantage in playing in the South Division is that every night is a challenge."
Louisiana will begin their quest to lead the South Division on September 30th at home against the Atlanta Capitals.
Next Up: Long Beach Sharks