3View: Great Falls Americans
August 30, 2022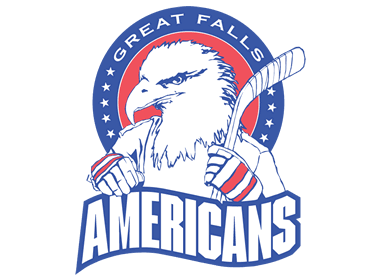 The 3View series will feature an in-depth look into all NA3HL teams in preparation for the 2022-23 season, with two teams being highlighted daily, leading all the way up until the start of the regular season. 3View goes in-depth into each NA3HL team and will include interviews with all the head coaches in the NA3HL, as they provide fans with their expectations and outlook for the 2022-23 season, including taking a look at their potential roster and their strengths as a team for the upcoming season. It will also take a look back on the 2021-22 season and how each team fared and what they accomplished. Best of all, 3View will provide the fans of the NA3HL with an inside look at their favorite team and what to expect.
Great Falls Americans
Head Coach: Greg Sears
2021-22 record: 47 GP, 22-20-5, 49 pts. (4th in the Frontier Division)
2021-22 leading scorer: Jackson Henningsgard (52 points)
2022 Playoffs: Lost to Helena in the Frontier Division Semi-Finals, 2-0
2022-23 Division: Frontier
The Great Falls Americans are coming off a great season to where they made the Fraser Cup playoffs, but unfortunately came up short to the Helena Bighorns in the Frontier Division Semifinals. Great Falls is led by Greg Sears, where he will be entering his 5th season behind the bench for the Americans.
This past season was a great year for his players to get their feet wet, as Sears feels like his players are more experienced and is looking for them to take a big step this year.
"Last season was difficult. Our guys had to battle adversity from the start, and I think they did a good job keeping it together to get a chance in the playoffs last year. We are looking forward to the season and battling every night in the Frontier. Having some experience back will help, but we need to get better one day at a time and see what happens," said Sears.
Sears was able to get his players to the next level, as the Americans saw five of their players sign college commitments including their leading scorer Jackson Henningsgard as he committed to play at the University of Oregon (ACHA D1). The University of Oregon is a growing program throughout the ACHA as they are now moving up from ACHA D2 to now the D1 level to where Henningsgard will be seen playing for the upcoming season.
"It's always good for the program to get college commitments. We had some good players move on and we are looking forward to watching them at the collegiate level. We also had a lot of guys who are moving on to other fields like tech schools, the military, and police academy that we are very proud of," said Sears.
The Americans will be more of experienced team this season, as they have 13 returning players from last year's squad, including: Tyler Sunagel, Jace Thompson, Aaron and Alex Leaf, Garrett Weisenburger, and Goaltender Josh Koziol. All of these players have a lot of junior hockey experience, where Sears feels like they can be a huge influence on the rookies in which the team is bringing in for this year.
"We have a nice group of returning players, and are also very excited about the guys coming in. With 13 guys coming in with junior hockey experience we look to get after it from the start. Tyler Sunagel had 42 points last season and will lead up front along with Jace Thompson who came in late last season. Aaron and Alex Leaf are both valuable returners that can play all over the ice. Garrett Weisenburger is another guy coming back that can play both forward and defense. He played over 80 games in the league. In net we have picked up veteran goaltender Josh Koziol who has played two seasons of junior hockey," said Sears.
Now that the Americans are more experienced after making the playoffs last season, they look to take a huge step in making a run at this year's Fraser Cup Championship.
Next Up: Granite City Lumberjacks