3View: Granite City Lumberjacks
August 30, 2022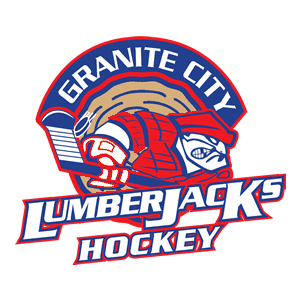 The 3View series will feature an in-depth look into all NA3HL teams in preparation for the 2022-23 season, with two teams being highlighted daily, leading all the way up until the start of the regular season. 3View goes in-depth into each NA3HL team and will include interviews with all the head coaches in the NA3HL, as they provide fans with their expectations and outlook for the 2022-23 season, including taking a look at their potential roster and their strengths as a team for the upcoming season. It will also take a look back on the 2021-22 season and how each team fared and what they accomplished. Best of all, 3View will provide the fans of the NA3HL with an inside look at their favorite team and what to expect.
Granite City Lumberjacks
Head Coach: Brad Willner
2021-22 record: 47 GP, 44-3-0, 88 pts. (1st in the West Division)
2021-22 leading scorer: Brett Reed (52 points)
2022 Playoffs: Won West Division, Lost to Rochester in Fraser Cup Championship Game
2022-23 Division: West
Last season the Lumberjacks steam rolled through the West Division, where they won 44 out of 47 games and finished 1st in their division by a commanding 21 points. Granite City is led by Veteran Head Coach Brad Willner where he is now entering his 12th season as the Lumberjacks bench boss.
Even though Granite City has performed very well throughout the regular season they have come up short the last few seasons of their goal of winning the Fraser Cup. That continued in 2021-22 as they lost in the Fraser Cup Championship game to the Rochester Grizzlies.
Coach Wilner has taken these last couple years as a learning point for his group, but he is proud of his squad for what they were able to accomplish last season. "I thought it was great for our players and organization to get back to the Fraser Cup after falling short the past few seasons. That was our goal from the beginning of the season and our players worked hard to make that goal a reality," said Willner.
The NA3HL has played a huge role in advancing players to the next level, whether that's up to the NAHL, or getting their players to the college ranks. A lot of times it isn't just about winning, as Willner wants what is best for his players, which includes getting them the correct exposure in helping them reach their goals.
"We had success last season, not only within the NA3HL, but also advancing players up to the NAHL. Our players know if they play well for us, they will get the opportunity to advance to the NAHL. We build off that success and continue to attract top players because of that. Players know we won't hold them back from advancing just to win the Fraser Cup. Six of our top players during the season were not with us at the end," said Willner.
The Lumberjacks were able to have four players on their team from last season earn College Commitments, including: Kullan Daikawa (University of Wisconsin - Stout NCAA D3), Cody Dias (University of Delaware ACHA D1), Tal Halliday (Concordia College NCAA D3), and Nick Mountain (Gustavus Adolphus College NCAA D3).
Throughout his many years behind the bench, Willner has always had the reputation of moving his players to the next level which is one of his top priorities as Head Coach.
"It's great when players get the opportunity to move on to higher levels of hockey. We promote players daily to do just that. We are in contact with many Colleges and NAHL coaches throughout the season to get players opportunities. Players get to practice in the NAHL and visit colleges during the season. That's the goal of our league and our Team," said Wlilner.
While the Lumberjacks don't return many players from last season, thanks to advancement and college commitments, the few that are returning will be looked upon to continue the winning culture. They are still looking to be one of the top teams within the NA3HL with the goal of getting back to the Fraser Cup Championship.
"We expect a lot out of our veteran players both on and off the ice. They are our leaders and instill the work ethic and commitment to our new guys. With not many players returning, it will be big to have them gel with the new guys and bring them along early in the season. If everyone buys in, we should be just fine chasing our goal to win the West Division," said Willner.
Next Up: Gillette Wild