September 3, 2022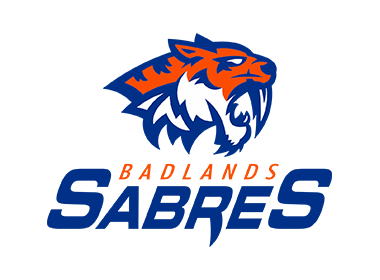 The 3View series will feature an in-depth look into all NA3HL teams in preparation for the 2022-23 season, with two teams being highlighted daily, leading all the way up until the start of the regular season. 3View goes in-depth into each NA3HL team and will include interviews with all the head coaches in the NA3HL, as they provide fans with their expectations and outlook for the 2022-23 season, including taking a look at their potential roster and their strengths as a team for the upcoming season. It will also take a look back on the 2021-22 season and how each team fared and what they accomplished. Best of all, 3View will provide the fans of the NA3HL with an inside look at their favorite team and what to expect.
Badlands Sabres
2021-22 Record: 19-25-3, 41 pts. (5th in Frontier Division)
2022 Playoffs: Lost to Great Falls in the Frontier Division Play-In Series, 2-0
Head Coach: Brendon Hodge
2022-23 Division: Frontier
There were plenty of unknowns and unanswered questions when Badlands entered their inaugural 2021-22 season. Freshly relocated from Missoula, the Sabres were ready to take on the challenge right away and impressed the Frontier Division by making the playoffs. This season, head coach Brendon Hodge and the rest of the organization are ready to make even bigger waves.
Hodge reflected on how his club performed in their first year. "We had a great season last season. Being a 1st year team you never know what will come of an inaugural season but us making the playoffs in year 1 was a great accomplishment for our organization. The players came here and put the work in all year to make it a successful season."
Looking forward to this upcoming 2022-23 campaign, the Sabres are going to rely on hard work and dedication to meet their goals. "Our goal this season is to improve as an organization from top to bottom. We want to continue developing our players and helping them reach their goals in the game of hockey. Our players know there are no guarantees in hockey and they will have to work hard every step of the way nothing is handed to them."
The key this season will be developing that mentality in a locker room full of new faces. "We have a lot of new players this season that we are very excited about. We are looking for all of our players to be ready for the challenge that a junior season brings to every team."
As it is with every NA3HL team, team success means little without strong player development and advancement. Helping players develop and advance is perhaps the most important tenet of any Junior hockey program, and Badlands is no different. The 2021-22 Badlands roster produced three college commitments and an NAHL Draft pick.
Hodge hopes to see this year's Sabres move on to the next level, whether that is collegiate hockey or a place in the NAHL. "One of our main goals as an organization is to promote our players whether it is promoting them to a Tier 2 league or getting our players to a college that they feel most comfortable attending," said Hodge.
The calendar has turned the page to September and that means the new season is right around the corner. Hodge and the Sabres are ready for a new set of challenges and obstacles to overcome in the Frontier Division, beginning with their season opener against the Helena Bighorns on September 9th.
"We believe the Frontier division is a very competitive division. Especially this season with the playoff format changing to only 4 teams making the playoffs. So every game is going to be a battle and every point is going to have to be earned every night to make the playoffs."
Next up: Austin Ice Bats