September 3, 2022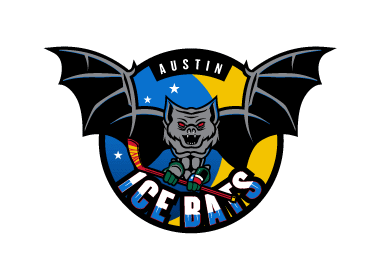 The 3View series will feature an in-depth look into all NA3HL teams in preparation for the 2022-23 season, with two teams being highlighted daily, leading all the way up until the start of the regular season. 3View goes in-depth into each NA3HL team and will include interviews with all the head coaches in the NA3HL, as they provide fans with their expectations and outlook for the 2022-23 season, including taking a look at their potential roster and their strengths as a team for the upcoming season. It will also take a look back on the 2021-22 season and how each team fared and what they accomplished. Best of all, 3View will provide the fans of the NA3HL with an inside look at their favorite team and what to expect.
Austin Ice Bats
2021-22 Record: 3-44-0, 6 pts. (8th in South Division)
2022 Playoffs: Did not qualify
Head Coach: Phil Oberlin
2022-23 Division: South
It was a difficult inaugural season for the Austin Ice Bats and though last season definitely didn't meet team expectations — their three wins were the least in the league — Head Coach Phil Oberlin is ready to get things turned around for the Ice Bats in a hurry.
"We're not concerned with how last year went," he said. "This is a new team with players who have chosen to be a part of a program they fully believe in. Our focus is on this year and improving each day. The buy-in from this group is already apparent."
Even though the season didn't go the way the Ice Bats would've expected, they did produce in the advancement department. Along with Connor Doyle from this past season's roster, some former Ice Bats are finding success across all levels of hockey. Oberlin spoke on some of those players.
"We have 4 former players making the jump to college or professional hockey in the 2022-23 season. Brody Beahan will be attending Drury University ACHA D2, Connor Doyle will be attending The University of Toledo ACHA D1, Brandon Shantz will be attending Plymouth State University NCAA D3, and Lucas Helland has signed a professional contract to play for the Mississippi Sea Wolves in the FPHL."
Despite losing a key piece to the lineup to the next level, there will be plenty of familiar faces that will be donning the Ice Bats Sweater to solidify the back end, push the offense forward, and be leaders. With returning skaters like Maddox Hoff and Jaylen Mendez and some incoming talent on hand, the Ice Bats are poised to have a bounce-back season.
"All our defenseman have a full year of junior hockey under their belt, so we expect much more from them this year having been through a season of junior hockey," said Oberlin. "Offensively, we're excited to be returning Maddox Hoff and Jaylen Mendez who finished the year strong last year. Both are coming back with a chip on their shoulders and prepared to elevate their game."
Along with a strong core of returning players, the Ice Bats have brought in some new pieces that they think will make an immediate impact.
"We have a great group of new players joining us in Austin this year. Specifically, Alex Evanyk, Ben Allen and Austin Alcala are a few of our veteran junior hockey players who we expect to contribute both on the ice and off the ice with leading our younger players in the right direction."
With the roster coming together and the season ever approaching closer, Oberlin and the rest of the 2nd year squad have set a vision for this season.
"Our goal is to make the playoffs and push for the division, just like every team in our division. We've set the goal and our vision for the team, but it's more important to focus on how we're going to reach those goals. A vision without action is a dream, but action without vision is a nightmare. We have set our vision, now we're focused on our actions."
The Ice Bats begin their quest for the Fraser Cup on September 16th on the road against the Texas RoadRunners.
Next Up: Atlanta Capitals