Game On! 2022-23 NA3HL regular season gets underway
September 9, 2022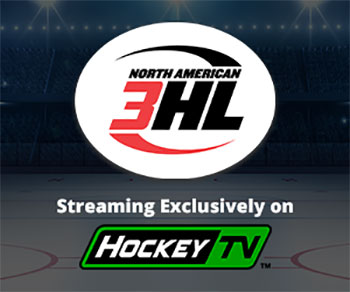 The first full weekend of the 2022-23 NA3HL regular season officially gets underway this weekend as 15 games are on the schedule for Friday and Saturday.
On Sunday, the NA3HL regular season opened with the Northeast Generals beating the Danbury Jr. Hat Tricks, 6-4.
This weekend sees action in the Central, East, Frontier, and West Divisions.
The NA3HL is entering its 13th season and serves as one of the top training grounds in the country by providing the best coaching, exposure and developmental vehicles available for student-athletes in Tier III junior hockey.
No other league of its kind has had more movement and advanced more players onto play in the North American Hockey League (NAHL) than the NA3HL. Thanks to additional and enhanced initiatives in cooperation with the NAHL put in place several years ago, more players from the NA3HL play, practice, and earn NCAA Division I scholarships with the NAHL than any other league.
This past season not only did 34 NA3HL players sign a tender to play in the NAHL for the upcoming 2022-23 season, but 27 more players were selected in the 2022 NAHL Entry Draft. The NA3HL not only saw 61 of its players tendered or drafted by NAHL teams, but over 60 NA3HL alumni played in the NAHL this past season. The NA3HL also saw five current or former players make NCAA Division 1 commitments this past season.
The NA3HL is the only USA Hockey Tier III Certified league and is operated by the experienced NAHL staff. The NA3HL takes pride in its internal player advancement system, internal NAHL tendering system, NAHL Central Scouting designed to promote players for the NAHL Draft, and its strategic event structure which are all built for player exposure and advancement. When you add it all up the NA3HL is truly a Step Above the Rest!
Follow the games on the NA3HL App:
Download the iOS App Store version here
Download the Google Play version here
All games broadcast live on HockeyTV
FRI, SEPTEMBER 9
Northeast at New Jersey - 7:00 PM EDT
Milwaukee at Peoria - 6:00 PM CDT
New Ulm at Minnesota - 7:30 PM CDT
Rochester at St. Louis - 8:00 PM CDT
Helena at Badlands - 7:05 PM MDT
Bozeman at Gillette - 7:05 PM MDT
Sheridan at Yellowstone - 7:30 PM MDT
SAT, SEPTEMBER 10
Rochester at St. Louis - 2:00 PM CDT
Milwaukee at Peoria - 5:00 PM CDT
Northeast at New Jersey - 6:30 PM EDT
New Ulm at Minnesota - 7:30 PM CDT
Helena at Badlands - 7:05 PM MDT
Bozeman at Gillette - 7:05 PM MDT
Butte at Great Falls - 7:30 PM MDT
Sheridan at Yellowstone - 7:30 PM MDT