Toros, Bulls alum Sato signs professional contract
September 15, 2022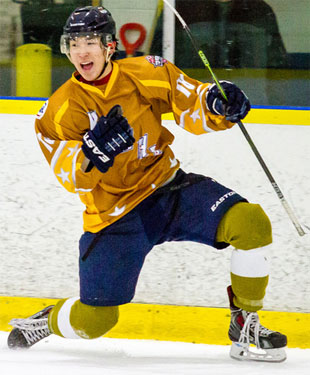 The North Iowa Bulls and Mason City Toros, proud members of the North American Hockey League and North American 3 Hockey League, are excited to announce that Bulls alumnus Kohei Sato has signed a professional contract with the Joensunn Kiekko-Pojat club to continue his hockey career in Finland this season. He becomes the 17th player in North Iowa Bulls history to claim a spot on a professional club since the team's founding in the NA3HL in 2011.
"I'm really excited to go to Joensunn," said Sato in a press release with his new club. "I want to help the team win the championship and at the same time develop as a player."
Sato came to Mason City in 2014 after a two-year stint at the Canadian International Hockey Academy in Rockland, Ontario, and immediately electrified North Iowa fans with his speed and scoring ability. He would lead the Bulls to a USA Hockey national championship in 2015, and returned from a three-game stretch with the Wilkes-Barre/Scranton Knights the following season to lead the Bulls to another NA3HL Silver (now Fraser) Cup championship. He even showcased his speed on the track while competing for Newman Catholic High School in Mason City, running for the Knights at the 2016 Iowa high school state track and field meet.
After piling up 15 points in the Bulls' first seven games of 2016-17, Sato moved to the NAHL for good, playing the remainder of the season with the Northeast Generals. He posted 73 points in 71 games over his two-plus seasons in North Iowa, and his 36 points that season with the Generals ranked second on the team and earned him an NCAA Division I scholarship to the University of New Hampshire.
Sato's speed helped him flourish on the Wildcats' Olympic-sized ice sheet, notching 29 points in 104 games with the program from 2017 to 2021. He capped his collegiate career this past season at Bentley University, posting 12 additional points as a graduate transfer for the Falcons.
The Nishitokio, Japan native now joins a Joensunn Kiekko-Pojat team in the Mestis, Finland's second-highest level of professional hockey. He is only the second North Iowa Bulls alumnus to ever play professionally in Finland, following Finnish native Kristian Kause, who played two years in the nation's Suomi-sarja third-level pro league.
"Sato is a versatile center, who can play in many different roles and always gives his all," said Jaako Liponen, the team's general manager. "In addition, Sato has enormous skating power and speed, which will cause problems for our opponents."
Joensuun begins its 52-game regular season against defending Mestis champion Kettera on Saturday, September 24.