September 30, 2022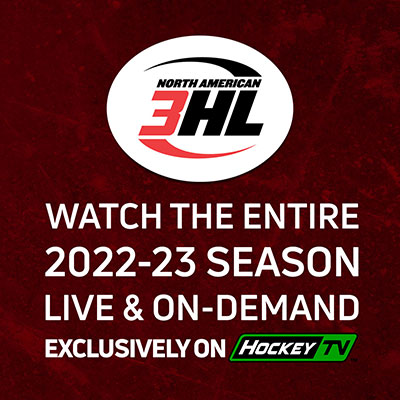 This weekend, the hockey continues to roll on in the NA3HL as more and more teams begin their 2022-23 seasons with 26 games on the schedule.
The last three remaining teams who have yet to play a game, the Bay State Bobcats, Louisiana Drillers and Texas Brahmas, are all in action this weekend with their first games of the 2022-23 season.
This weekend features several exciting match-ups, but none more prominent than Granite City making the trip west to take on the Gillette Wild in a out-of-division series between two NA3HL powerhouses.
The NA3HL Showcase is less than three months away and takes place from December 18-20 in Blaine, MN.
Earlier this month, the NAHL announced a new affiliate program with the NA3HL. Beginning this season, NAHL teams may name up to three NA3HL Affiliates and use them throughout the season without having to manage through a lot of roster disruptions. An NA3HL Affiliate is a player of extreme interest to an NAHL team and allows the NA3HL player the opportunity for more flexibility when he gets a call to compete in the NAHL. The program is in addition to the already in place and successful NA3HL Play and Practice Program, which promotes the opportunity for players in the NA3HL to get the chance to practice with NAHL teams.
The NA3HL is the only USA Hockey Tier III Certified league and is operated by the experienced NAHL staff. The NA3HL takes pride in its internal player advancement system, internal NAHL tendering system, NAHL Central Scouting designed to promote players for the NAHL Draft, and its strategic event structure which are all built for player exposure and advancement. When you add it all up the NA3HL is truly a Step Above the Rest!
Follow the games on the NA3HL App:
Download the iOS App Store version here
Download the Google Play version here
All games broadcast live on HockeyTV
FRI, SEPTEMBER 30
Northeast at Norwich - 12:00 PM EDT
Atlanta at Louisiana - 4:05 PM CDT
Rochester at Peoria - 6:00 PM CDT
Mason City at New Ulm - 7:10 PM CDT
Texas Brahmas at Mid Cities - 7:30 PM CDT
Wausau at Milwaukee - 7:30 PM CDT
Willmar at Minnesota - 7:30 PM CDT
St. Louis at Oregon - 7:30 PM CDT
Granite City at Gillette - 7:05 PM MDT
Butte at Bozeman - 7:30 PM MDT
Helena at Great Falls - 7:30 PM MDT
SAT, OCTOBER 1
Norwich at New Jersey - 3:30 PM EDT
Atlanta at Louisiana - 4:05 PM CDT
Rochester at Peoria - 6:00 PM CDT
Long Beach at Bay State - 7:30 PM EDT
Mason City at New Ulm - 7:10 PM CDT
Alexandria at Willmar - 7:10 PM CDT
Wausau at Milwaukee - 7:30 PM CDT
St. Louis at Oregon - 7:30 PM CDT
Granite City at Gillette - 7:05 PM MDT
Helena at Bozeman - 7:30 PM MDT
Great Falls at Butte - 7:30 PM MDT
SUN, OCTOBER 2
Long Beach at Bay State - 12:30 PM EDT
Norwich at New Jersey - 2:30 PM EDT
Mid Cities at Texas Brahmas - 2:30 PM CDT
Atlanta at Louisiana - 4:05 PM CDT