NA3HL announces Bauer Hockey Stars of the Week
October 4, 2022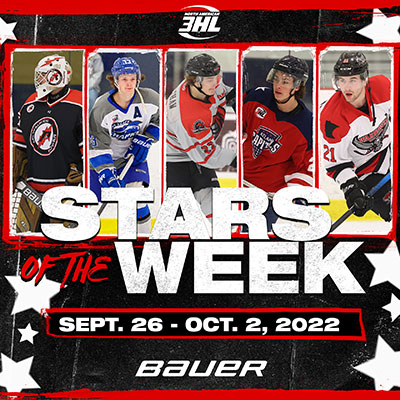 The North American 3 Hockey League (NA3HL) today announced the Divisional Stars of the Week presented by Bauer Hockey for the week ending October 2, 2022. The Divisional Stars of the Week is an award given each week of the regular season to the top performing players in each of the five divisions of the NA3HL as nominated by their head coaches. There is no South Division Star this week as no games were played.
Central Division Star of the Week: Spencer Northway, Goalie, Milwaukee Power
Power netminder Spencer Northway added two wins between the pipes after his back-to-back performance over the weekend. In a 2-1 overtime win on Friday against the Wausau Cyclones, Northway turned away 27 of the 28 shots he faced. The following night, Nothway posted a 27-save shutout in a 4-0 win. The Ankney, IA native has appeared in 3 games this season with a perfect 3-0 record, a .980 GAA and a .962 SV%.
\2nd Star: Patrick Toomy, F, Milwaukee Power
Honorable Mention (alphabetical): Tate Cothem, G, Rochester Grizzlies – Cam Pendleton, G, Peoria Mustangs – Tristan Trudel, F, Peoria Mustangs – Ben Tschida, F, Rochester Grizzlies

East Division Star of the Week: Dylan Harbour, Forward, Long Beach Sharks
Dylan Harbour lit up the scoresheet totalling 7 points in two games including 2 goals and 5 assists. In a 7-3 Sharks victory over the Bay State Bobcats, the Wasilla, AK native found the back of the net once and handed out 4 helpers. In game two against the Bobcats, Harbour added another goal and assist to end the weekend. This season Harbour has played in six games and has totalled 9 points with 2 goals and 7 assists.
2nd Star: Andrew Yocum, F, Norwich Sea Captains
Honorable Mention (alphabeticall): Angelo Donzella, F, Norwich Sea Captains – Jack Fitzpatrick, F, Long Beach Sharks – Luke Fundator, G, Northeast Generals – Caiden Hess, F, Northeast Generals
Frontier Division Star of the Week: Nick Bradshaw, F, Butte Cobras
Butte Forward Nick Bradshaw put on a show tallying 9 points in 2 games over the weekend. In a 6-2 loss to Bozeman, Bradshaw helped in both goals by netting one himself and earning an assist on the second. The Cobras returned to the ice for a showdown against the Great Falls Americans where they won 9-3. Bradshaw turned on the offensive motor scoring 3 goals and adding 4 assists for a 7 point night. So far in the 2022-23 campaign, Bradshaw has totalled 18 points (8-10-18) in just 7 games. The Jefferson, SD native is currently third place amongst all scorers in the NA3HL.
2nd Star: Jake Turek, G, Gillette Wild
Honorable Mention (alphabetical): Camden Cunningham, F, Helena Bighorns – William Fallman, D, Great Falls Americans – JP Johnson, F, Gillette Wild – Lyndon Orr, F, Helena Bighorns – Cade Wessman, F, Butte Cobras

South Division Star of the Week: Nick Jameus, Forward, Atlanta Capitals
Capitals forward Nick Jameus earned this week's South Division Star after his 3 game performance totalling 6 points. In a three game set against the Louisiana Drillers, Jameus added two assists, including a game tying goal assist, in a 3-2 OT loss to the Drillers. The following game Jameus did not see his name on the scoresheet, but battled back offensively in game three adding 1 goal and 3 assists. Jameus has appeared in 10 games this season and currently leads the NA3HL in scoring with 21 points (2-19-21), averaging 2.10 points per game.
2nd Star: Aaron Best, F, Texas Brahmas
Honorable Mention (alphabetical): Brendan Forden, G, Texas Brahmas -– Anthony O'Neal, F, Atlanta Capitals

West Division Star of the Week: Michael Sweetland, Forward, Willmar Warhawks
Willmar Warhawks forward Michael Sweetland had a standout game over the weekend recording 5 points. In the WarHawks 6-4 win against the Minnesota Loons, the Stillwater, MN native netted a goal and added 4 assists. So far this season, Sweetland has played in 3 games and has tallied 6 points (2-4-6).
2nd Star: Kyle Abrahamson, G, Alexandria Blizzard
Honorable Mention (alphabetical): Ashton Erickson, F, Granite City Lumberjacks – Brett Robinson, D, Granite City Lumberjacks