Sunday Wrap-Up: Rhinos complete three-game sweep
October 10, 2022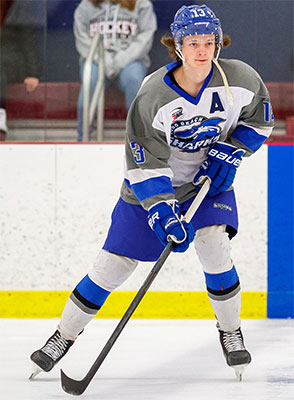 El Paso 4 @ TX Brahmas 3 – The Rhinos are off to a 4-1 start thanks in large part to their three-game weekend road sweep of the Brahmas, which was capped off by a 4-3 win on Sunday. Defenseman Mike Sobaski led the way with two goals in the win. The Brahmas led 1-0 on a goal from George Keeley. Payne Pent tied the game later in the period for El Paso. The Brahmas regained the one-goal lead on a tally from Michael Imala. In the 3rd period, the Rhinos erupted for three goals, including two from Sobaski and one from Jackson Price. Mario Smith had the other goal for the Brahmas. Patrick Boyle made 27 saves in the win, while Brendan Forden made 22 saves in the loss.
Austin 6 @ Atlanta 4 – Troy Landschoot had a hat-trick and an assist and Collin Lemanski made 63 saves as the Ice Bats salvaged a win in a three-game weekend in Atlanta thanks to a 6-4 win on Sunday. Landschoot scored Austin's first three goals, which was matched by goals from Harrison Flaacke, Anthony O'Neal, and Jacob Bartholomew for the Capitals. The Ice Bats pulled away with three more goals from Sebastian Hale, Jaylen Mendez, and Caden Peterson. Nic Refine had Atlanta's 4th goal. Coleman Garnier made 19 saves in the loss.
Bay State 3 @ Long Beach 5 – Dylan Harbour had a hat-trick to lead the Sharks to a 5-3 win and weekend sweep of the Bobcats. Long Beach took a 2-0 lead on goals from Zac Kretzschmer and Harbour's first. Bay State tied the game at 2-2 on goals from Jake Rossignol and Jason Melanson. Harbour then scored twice more in the 3rd period and Kretzschmer added his second to complete the 5-3 win. Brian Woak had the other goal for Bay State. Ryo Murakami mad 28 saves in the win, while Jacob King made 40 saves in the loss.
New Mexico 5 @ Louisiana 2 – The Ice Wolves picked up their second win of the weekend as five different players scored in a 5-2 win in Louisiana on Sunday. New Mexico got 1st period goals from Brady Nance and Evan Axell, which were both their first goals of the season. In the 2nd period, the Ice Wolves put the game out of reach with three goals from Bode Ensign, Braeden Whitesell, and Ryan Kerr. Louisiana goals came from Jack Lambert in the 1st period and Mason Wilbur in the 2nd period. Pierson Hiaslet made 24 saves in the win and Krzsztof Jakubowski made 10 saves in the win. John Moriarty made 34 saves in the loss.