Wille leads Generals to win on Wednesday
October 19, 2022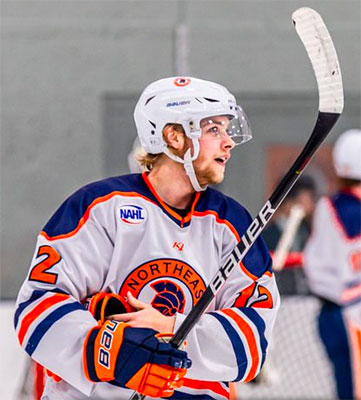 Northeast 5 @ Norwich 1 – Generals forward Dalton Wille recorded a hat-trick to lead his team to a 5-1 road win in an afternoon game in Norwich on Wednesday.
The Sea Captains were first to score as they got on the board early in the 1st period with their lone goal of the game from Sava Makarenko. Later in the 1st period, the Generals took over the lead thanks to a goal from Nick Recupero and the first goal of the day from Wille.
In the 2nd period, the lead increased to 3-1 for the Generals as Nolan Zotter netted his fourth goal of the season.
In the 3rd period, Wille would add two more goals to complete the hat-trick as the Generals moved their record to 11-0-1 on the season.
Ian Kangas made 23 saves in the win, while Andrew Yocum made 33 saves in the loss.