October 21, 2022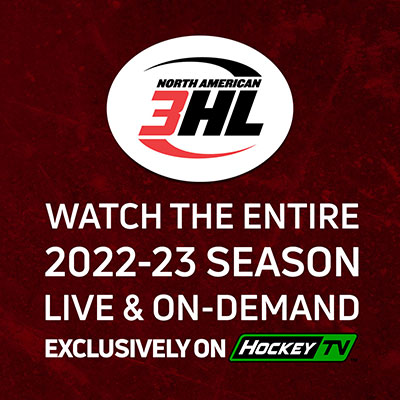 It is a busy weekend in the NA3HL with a total of 34 games on the schedule this weekend as the NA3HL regular season gets into late October.
With the quarter point of the season coming up, the standings remain tight and there are no more undefeated teams remaining.
It was a big week for the NA3HL as more players were called up to the NAHL and one former NA3HL player made an NCAA Division I commitment.
The NA3HL Showcase is less than two months away and takes place from December 18-20 in Blaine, MN. The schedule will be released on December 1st.
Earlier this month, the NAHL announced a new affiliate program with the NA3HL. Beginning this season, NAHL teams may name up to three NA3HL Affiliates and use them throughout the season without having to manage through a lot of roster disruptions. An NA3HL Affiliate is a player of extreme interest to an NAHL team and allows the NA3HL player the opportunity for more flexibility when he gets a call to compete in the NAHL. The program is in addition to the already in place and successful NA3HL Play and Practice Program, which promotes the opportunity for players in the NA3HL to get the chance to practice with NAHL teams.
Follow the games on the NA3HL App:
Download the iOS App Store version here
Download the Google Play version here
All games broadcast live on HockeyTV
FRI, OCTOBER 21
Alexandria at Mason City - 7:10 PM CDT
Willmar at New Ulm - 7:10 PM CDT
Milwaukee at Wausau - 7:10 PM CDT
Louisiana at Mid Cities - 7:30 PM CDT
Granite City at Minnesota - 7:30 PM CDT
Peoria at Oregon - 7:30 PM CDT
Texas RoadRunners at Texas Brahmas - 7:30 PM CDT
Long Beach at New Jersey - 8:45 PM EDT
El Paso at Austin - 8:00 PM CDT
Rochester at St. Louis - 8:00 PM CDT
Butte at Badlands - 7:05 PM MDT
Sheridan at Bozeman - 7:30 PM MDT
Gillette at Great Falls - 7:30 PM MDT
Helena at Yellowstone - 7:30 PM MDT
SAT, OCTOBER 22
Rochester at St. Louis - 2:00 PM CDT
Alexandria at Mason City - 3:10 PM CDT
Long Beach at New Jersey - 7:30 PM EDT
Louisiana at Mid Cities - 7:00 PM CDT
Milwaukee at Wausau - 7:10 PM CDT
New Ulm at Willmar - 7:10 PM CDT
Minnesota at Granite City - 7:30 PM CDT
Peoria at Oregon - 7:30 PM CDT
Texas RoadRunners at Texas Brahmas - 7:30 PM CDT
Bay State at Norwich - 8:50 PM EDT
El Paso at Austin - 8:00 PM CDT
Butte at Badlands - 7:05 PM MDT
Sheridan at Bozeman - 7:30 PM MDT
Gillette at Great Falls - 7:30 PM MDT
Helena at Yellowstone - 7:30 PM MDT
SUN, OCTOBER 23
Texas RoadRunners at Texas Brahmas - 2:30 PM CDT
Granite City at New Ulm - 3:00 PM CDT
Louisiana at Mid Cities - 3:15 PM CDT
El Paso at Austin - 4:45 PM CDT
Norwich at Danbury - 7:00 PM EDT