October 28, 2022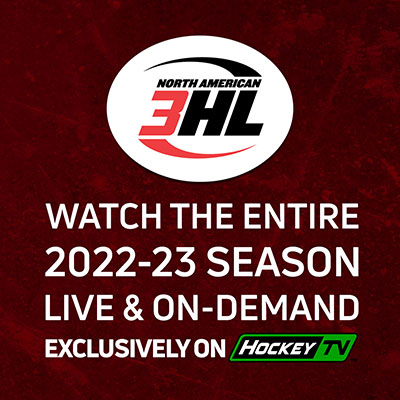 It's the busiest weekend so far of the 2022-23 season in the NA3HL with 37 games on the schedule Friday-Sunday.
This is the last full weekend of October as players get one final weekend to make an impression for monthly star honors and consideration.
The NA3HL Showcase is less than two months away and takes place from December 18-20 in Blaine, MN. The 2022 NA3HL Showcase schedule will be released on Thursday, December 1st and will pair up evenly matched teams against one another based on the current standings and is also designed to have cross-divisional games with balanced competition.
This weekend in the NA3HL features several intriguing match-ups, which includes the top two teams in the Central going at it as Milwaukee is in Rochester. The two top teams in the South are in action as the 1st place RoadRunners travel to Atlanta and 1st place Louisiana hosts El Paso. The Sheridan Hawks have a tough task in the Frontier as they host 1st place Helena. Gillette looks to continue their winning streak against Butte. In the East, Norwich will try and keep pace with Northeast with two games. In the West, Granite City puts their 11-0-1 record on the line in Willmar, while Alexandria looks to stay hot with a series at home against Mason City.
Earlier this month, the NAHL announced a new affiliate program with the NA3HL. Beginning this season, NAHL teams may name up to three NA3HL Affiliates and use them throughout the season without having to manage through a lot of roster disruptions. An NA3HL Affiliate is a player of extreme interest to an NAHL team and allows the NA3HL player the opportunity for more flexibility when he gets a call to compete in the NAHL. The program is in addition to the already in place and successful NA3HL Play and Practice Program, which promotes the opportunity for players in the NA3HL to get the chance to practice with NAHL teams.
Follow the games on the NA3HL App:
Download the iOS App Store version here
Download the Google Play version here
All games broadcast live on HockeyTV
FRI, OCTOBER 28
Bay State at Norwich - 12:00 PM EDT
El Paso at Louisiana - 4:05 PM CDT
Texas Brahmas at Atlanta - 7:40 PM EDT
Mid Cities at Austin - 7:00 PM CDT
St. Louis at Peoria - 7:00 PM CDT
Milwaukee at Rochester - 7:05 PM CDT
Mason City at Alexandria - 7:10 PM CDT
Minnesota at New Ulm - 7:10 PM CDT
Granite City at Willmar - 7:10 PM CDT
Wausau at Oregon - 7:30 PM CDT
New Mexico at Texas RoadRunners - 7:30 PM CDT
Butte at Gillette - 7:05 PM MDT
Badlands at Great Falls - 7:30 PM MDT
Helena at Sheridan - 7:30 PM MDT
Bozeman at Yellowstone - 7:30 PM MDT
SAT, OCTOBER 29
New Jersey at Long Beach - 5:00 PM EDT
El Paso at Louisiana - 4:05 PM CDT
St. Louis at Peoria - 6:00 PM CDT
Texas Brahmas at Atlanta - 7:30 PM EDT
Mid Cities at Austin - 7:00 PM CDT
Milwaukee at Rochester - 7:05 PM CDT
Mason City at Alexandria - 7:10 PM CDT
Minnesota at New Ulm - 7:10 PM CDT
Willmar at Granite City - 7:30 PM CDT
Wausau at Oregon - 7:30 PM CDT
New Mexico at Texas RoadRunners - 7:30 PM CDT
Butte at Gillette - 7:05 PM MDT
Badlands at Great Falls - 7:30 PM MDT
Helena at Sheridan - 7:30 PM MDT
Bozeman at Yellowstone - 7:30 PM MDT
SUN, OCTOBER 30
Texas Brahmas at Atlanta - 12:30 PM EDT
New Jersey at Long Beach - 2:30 PM EDT
New Mexico at Texas RoadRunners - 2:15 PM CDT
Bay State at Northeast - 4:00 PM EDT
El Paso at Louisiana - 4:05 PM CDT
Mid Cities at Austin - 4:45 PM CDT
Norwich at Danbury - 7:00 PM EDT