November 18, 2022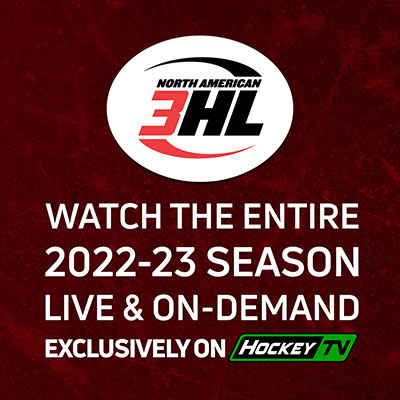 It is a busy pre-Thanksgiving weekend in the NA3HL with 32 games on the schedule from Friday-Sunday.
Just one month remains until the NA3HL Showcase, which will take place from December 18-20 at the Super Rink in Blaine, MN.
The 2022 NA3HL Showcase schedule will be released on Thursday, December 1st and will pair up evenly matched teams against one another based on the current standings and is also designed to have cross-divisional games with balanced competition.
The tender signing period is underway in the NAHL and NA3HL players has already been tendered. There have also been several players call up this week to play in NAHL games.
There are plenty of story lines this weekend. In the Central Division, both Oregon and Peoria look to continue to chase down Rochester for the top spot as they build upon extended winning streaks. In the East, the same can be said for New Jersey and Long Beach, who will meet on Sunday with each team riding some winning momentum. In the Frontier, the Great Falls Americans will try and slow down division-leading Gillette, who is on a 12-0-1 run. In the South, the top spot is on the line as 1st place Louisiana visits the 2nd place RoadRunners. In the West, 1st place Granite City will travel to 2nd place Alexandria on Saturday.
Follow the games on the NA3HL App:
Download the iOS App Store version here
Download the Google Play version here
All games broadcast live on HockeyTV
FRI, NOVEMBER 18
Northeast at Danbury - 3:00 PM EST
Austin at New Mexico - 1:00 PM MST
Milwaukee at Rochester - 7:05 PM CST
Texas Brahmas at Mid Cities - 7:30 PM CST
Mason City at Minnesota - 7:30 PM CST
Wausau at Oregon - 7:30 PM CST
Louisiana at Texas RoadRunners - 7:30 PM CST
Atlanta at El Paso - 7:00 PM MST
Yellowstone at Bozeman - 7:30 PM MST
Helena at Butte - 7:30 PM MST
Gillette at Great Falls - 7:30 PM MST
Badlands at Sheridan - 7:30 PM MST
SAT, NOVEMBER 19
Austin at New Mexico - 1:00 PM MST
Danbury at Long Beach - 5:00 PM EST
St. Louis at Peoria - 6:30 PM CST
Milwaukee at Rochester - 7:05 PM CST
Granite City at Alexandria - 7:10 PM CST
Mason City at Minnesota - 7:30 PM CST
Wausau at Oregon - 7:30 PM CST
Louisiana at Texas RoadRunners - 7:30 PM CST
Atlanta at El Paso - 7:00 PM MST
Willmar at New Ulm - 8:00 PM CST
Butte at Helena - 7:05 PM MST
Yellowstone at Bozeman - 7:30 PM MST
Gillette at Great Falls - 7:30 PM MST
Badlands at Sheridan - 7:30 PM MST
SUN, NOVEMBER 20
Norwich at Northeast - 12:30 PM EST
St. Louis at Peoria - 1:15 PM CST
New Jersey at Long Beach - 2:30 PM EST
Louisiana at Texas RoadRunners - 2:15 PM CST
Atlanta at El Paso - 4:30 PM MST
Bay State at Danbury - 7:00 PM EST