Blizzard, Lumberjacks, Bighorns win on Wednesday
November 24, 2022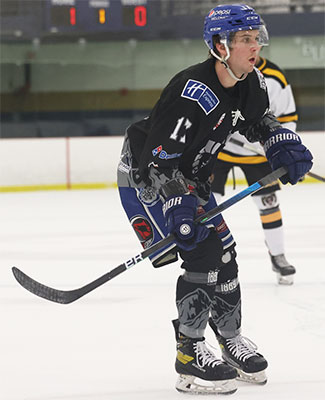 Willmar 2 @ Alexandria 9 - Ryan Hadland finished the night with six points while Sean Kenny registered a hat trick in the Alexandria Blizzard's 9-2 victory over the Willmar WarHawks. Hadland and Kenny weren't the only ones with big nights. Caleb Moore had a goal and two helpers while Ethan Moerke, Jayden Luck and Jack Carter all with the lamp for Alexandria. Kyle Abrhamson secured the victory in goal as he stopped 32 shots on the night. Braydon Buckingham and Connor Garcia supplied the offense for Willmar. Wyattt Olsonawski and Payton Mancuso combined to make 32 saves in the loss.
New Ulm 4 @ Granite City 9 - The Granite City Lumberjacks had multiple players find the back of the cage as they took care of the New Ulm Steel by a score of 9-4. Tucker Slime and Ashton Ericksen each picked up three points on the night as Skime netted two goals and added an assist while Ericksen scored once and assisted on two others. Parker Mitchell and Carson Van Zuilen both potted a pair of goals for the Jacks in the win as well. Joe Greniuk and Jack Louko both visited the red light district as well for Granite City. Xander Roberts needed just 16 saves to win the game in net for the Lumberjacks. Jack Laser and Gus Cantwell both had a goal and an assist for the Steel. Landen Schwantes and Charlie Sullivan both picked up goals as well for New Ulm. Nolan Lacosse took the loss in net as made 35 stops.
Great Falls 0 @ Helena 3 - Marek Andres stopped all 20 shots fired in his direction as the Helena Bighorns blanked the Great Falls Americans by a score of 3-0. Tyler Bloom scored twice for Helena to lead the offensive attack as he netted his 11th goal of the year to break the tie and his 12th was an empty netter to seal the win for the Bighorns. Zach Turner netted his first of the year as well for Helena. Josh Koziol finished the night with 54 saves in the loss for the Americans.