December 2, 2022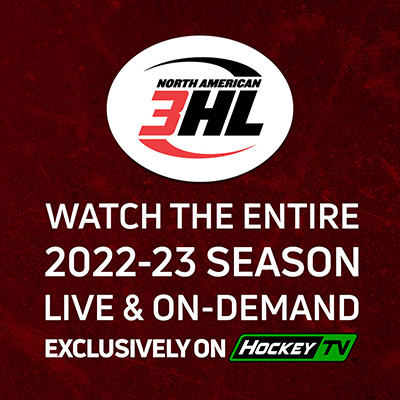 The NA3HL is back in action this weekend after four days off this week with 36 games on the schedule as the halfway point of the season nears.
The league and teams are still buzzing after the release of the NA3HL Showcase Schedule, which was released on Thursday.
The 2022 NA3HL Showcase will take place from December 18-20, 2022, at the Super Rink in Blaine, Minnesota. This season marks the 12th year the NA3HL will hold a league-wide Showcase, which features some of the best junior talent in the United States.
All NA3HL teams will play three regular-season games at the Showcase, which is annually one of the most well-attended and scouted events of the entire season for the league, attracting college and junior scouts alike. The NA3HL Showcase brings every NA3HL team under one roof, which allows scouts to see all the great talent the league has to offer. The NA3HL Showcase was built to pair up evenly matched teams against one another based on the current standings and is also designed to have cross-divisional games with balanced competition. Not only does the showcase see a large presence of NCAA and ACHA scouts, but all the NAHL teams in attendance, furthering the chances for players to earn a call up to the NAHL.
This weekend has several key match-ups, which include a 1 vs. 2 showdown in the Frontier with the Gillette wild in Helena. Central powers collide as Rochester and Peoria face one another. In the South, winning streaks are on the line as the Texas Brahmas travel to New Mexico to face the Ice Wolves. The East will be busy with all six teams in action. In the West, there is also a 1 vs. 2 showdown as Granite City will face Alexandria.
Follow the games on the NA3HL App:
Download the iOS App Store version here
Download the Google Play version here
All games broadcast live on HockeyTV
FRI, DECEMBER 2
Long Beach at Danbury - 3:00 PM EST
Texas Brahmas at New Mexico - 4:30 PM MST
New Jersey at Northeast - 7:30 PM EST
El Paso at Atlanta - 7:40 PM EST
Louisiana at Austin - 7:00 PM CST
Peoria at Rochester - 7:05 PM CST
Minnesota at Mason City - 7:10 PM CST
Willmar at New Ulm - 7:10 PM CST
Texas RoadRunners at Mid Cities - 7:30 PM CST
Great Falls at Badlands - 7:05 PM MST
Gillette at Helena - 7:05 PM MST
Sheridan at Bozeman - 7:30 PM MST
Butte at Yellowstone - 7:30 PM MST
SAT, DECEMBER 3
Wausau at St. Louis - 3:30 PM CST
Norwich at Long Beach - 5:00 PM EST
New Jersey at Northeast - 6:30 PM EST
El Paso at Atlanta - 7:40 PM EST
Louisiana at Austin - 7:00 PM CST
Texas RoadRunners at Mid Cities - 7:00 PM CST
Peoria at Rochester - 7:05 PM CST
Minnesota at Mason City - 7:10 PM CST
New Ulm at Willmar - 7:10 PM CST
Alexandria at Granite City - 7:30 PM CST
Texas Brahmas at New Mexico - 6:30 PM MST
Milwaukee at Oregon - 7:30 PM CST
Great Falls at Badlands - 7:05 PM MST
Gillette at Helena - 7:05 PM MST
Sheridan at Bozeman - 7:30 PM MST
Butte at Yellowstone - 7:30 PM MST
SUN, DECEMBER 4
Wausau at St. Louis - 11:00 AM CST
El Paso at Atlanta - 12:30 PM EST
Bay State at Northeast - 12:30 PM EST
Danbury at Long Beach - 2:30 PM EST
Texas Brahmas at New Mexico - 2:00 PM MST
Texas RoadRunners at Mid Cities - 3:15 PM CST
Louisiana at Austin - 4:45 PM CST