January 6, 2023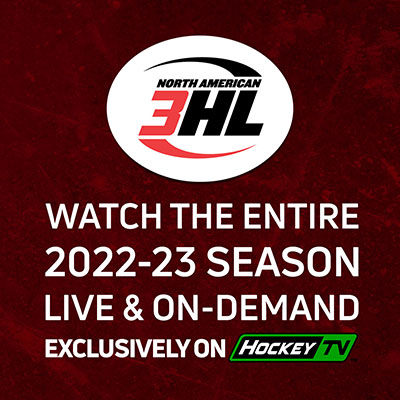 The NA3HL is back in action this weekend with a full slate of 33 games.
Several tenders have been signed since the NA3HL Showcase concluded right before the Christmas holiday and several more NA3HL players have signed NAHL affiliation agreements.
At the end of the games on Sunday, January 8th, the standings will freeze to determine the number of spots and coaches for the 2023 NA3HL Top Prospects Tournament, which will be held on February 6-7, 2023 at the UPMC Lemieux Center in suburban Pittsburgh, PA.
The NA3HL will field five teams for the event, one for each division.
Follow the games on the NA3HL App:
Download the iOS App Store version here
Download the Google Play version here
All games broadcast live on HockeyTV
Friday, January 6
Long Beach at Norwich - 12:00 PM EST
Austin at El Paso - 12:00 PM MST
Wausau at Peoria - 7:00 PM CST
Mason City at Rochester - 7:05 PM CST
Alexandria at New Ulm - 7:10 PM CST
Granite City at Willmar - 7:10 PM CST
Milwaukee at Minnesota - 7:30 PM CST
St. Louis at Oregon - 7:30 PM CST
Atlanta at Texas Brahmas - 7:30 PM CST
Mid Cities at Texas RoadRunners - 7:30 PM CST
Gillette at Helena - 7:05 PM MST
Great Falls at Butte - 7:30 PM MST
Yellowstone at Sheridan - 7:30 PM MST
Saturday, January 7
Austin at El Paso - 3:30 PM MST
Long Beach at Norwich - 5:45 PM EST
Wausau at Peoria - 6:00 PM CST
New Jersey at Bay State - 7:30 PM EST
Alexandria at Willmar - 7:10 PM CST
New Ulm at Granite City - 7:30 PM CST
Milwaukee at Minnesota - 7:30 PM CST
St. Louis at Oregon - 7:30 PM CST
Atlanta at Texas Brahmas - 7:30 PM CST
Mid Cities at Texas RoadRunners - 7:30 PM CST
Gillette at Helena - 7:05 PM MST
Butte at Bozeman - 7:30 PM MST
Yellowstone at Sheridan - 7:30 PM MST
Sunday, January 8
St. Louis at Oregon - 2:00 PM CST
Mid Cities at Texas RoadRunners - 2:15 PM CST
Atlanta at Texas Brahmas - 2:30 PM CST
New Ulm at Mason City - 3:10 PM CST
Austin at El Paso - 3:30 PM MST
Northeast at Danbury - 7:00 PM EST
New Jersey at Bay State - 7:30 PM EST