January 20, 2023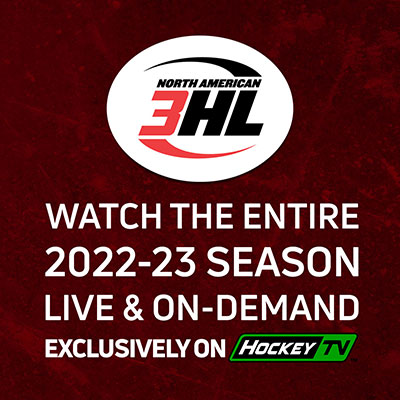 It's another busy weekend for the NA3HL as 30 games are on the schedule from Friday-Sunday.
As the calendar hits late January, several key happenings are taking place. We are getting close to the point where Fraser Cup Playoff spots are going to start being clinched, which could come as soon as this weekend.
There have been more NAHL call-ups this weekend in addition to some college commitments.
The NA3HL also announced the schedule and coaches for the 2023 NA3HL Top Prospects Tournament, which will be held on February 6-7, 2023 at the UPMC Lemieux Center in suburban Pittsburgh, PA. The NA3HL will field five teams for the event, one for each division.
The rosters for the event will be announced later today.
Follow the games on the NA3HL App:
Download the iOS App Store version here
Download the Google Play version here
All games broadcast live on HockeyTV
Friday, January 20
Norwich at Danbury - 12:00 PM EST
Mid Cities at New Mexico - 2:15 PM MST
Northeast at Bay State - 6:30 PM EST
Long Beach at New Jersey - 7:30 PM EST
Minnesota at Mason City - 7:10 PM CST
Oregon at Wausau - 7:10 PM CST
Peoria at Granite City - 7:30 PM CST
Louisiana at El Paso - 7:00 PM MST
Badlands at Gillette - 7:05 PM MST
Helena at Yellowstone - 7:05 PM MST
Great Falls at Butte - 7:30 PM MST
Saturday, January 21
Minnesota at Mason City - 3:10 PM CST
Mid Cities at New Mexico - 2:15 PM MST
New Ulm at St. Louis - 3:30 PM CST
Rochester at Milwaukee - 6:00 PM CST
Willmar at Alexandria - 7:10 PM CST
Oregon at Wausau - 7:10 PM CST
Peoria at Granite City - 7:30 PM CST
Louisiana at El Paso - 7:00 PM MST
Badlands at Gillette - 7:05 PM MST
Helena at Yellowstone - 7:05 PM MST
Bozeman at Great Falls - 7:30 PM MST
Sunday, January 22
New Ulm at St. Louis - 11:00 AM CST
Rochester at Milwaukee - 12:15 PM CST
Willmar at Mason City - 2:10 PM CST
Norwich at Northeast - 4:00 PM EST
Mid Cities at New Mexico - 2:15 PM MST
Long Beach at New Jersey - 5:45 PM EST
Louisiana at El Paso - 4:30 PM MST
Bay State at Danbury - 7:00 PM EST