NA3HL announces monthly player awards for January
February 1, 2023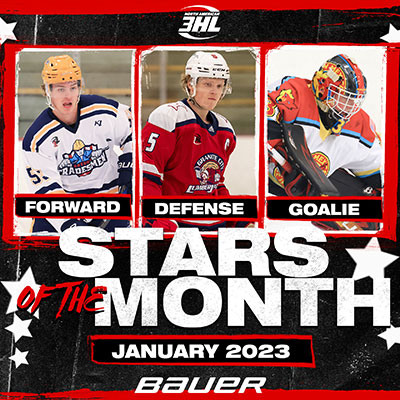 The North American 3 Hockey League (NA3HL) has announced its monthly player awards for the month of January 2023. The Forward of the Month is Dayne Deanovich of the Oregon Tradesmen. The Defenseman of the Month is Kyle Mortenson of the Granite City Lumberjacks. The Goaltender of the Month is Pierson Haislet of the New Mexico Ice. Only players who are nominated by their respective teams are considered for the NA3HL monthly awards.
Bauer Hockey NA3HL Forward of the Month: Dayne Deanovich, Oregon Tradesmen
Oregon Tradesmen forward Dayne Deanovich highlighted the scoresheet in 9 games during the month of January. The Fond Du Lac, WI native totalled an impressive 17 points in those 9 games that included 5 goals and 12 assists and a game-winning goal, while maintaining a +15 rating for the Tradesmen. Deanovich has appeared in 33 games this season and has totalled 35 points.
Runner-Up: Ricky Nelson, Wausau Cyclones
Honorable Mention (alphabetical): Gus Cantwell, New Ulm – Erik Hernborn, Rochester – Jack Herron, Texas RoadRunners – Stanley Hubbard, New Mexico – Zak Kennett, Granite City – Zac Kretzschmer, Long Beach – Jack Lambert, Louisiana – Ben Mondou, Texas Brahmas – Matthew Nuzzlilo, Northeast – Teejay Torgrimson, Sheridan – Wes Weisenburger, Great Falls
Bauer Hockey NA3HL Defenseman of the Month: Kyle Mortenson, Granite City Lumberjacks
Granite City defenseman, Kyle Mortenson, earned the Defenseman of the Month after recording 12 points in 7 games during the month of January. Mortenson scored 3 goals, including 2 game-winners, and dished out 9 assists all while keeping a +9 rating. The Wayzata, MN native has played in 34 games this season and has racked up 35 points with 10 goals and 25 assists.
Runner-Up: Austin Micale, Atlanta Capitals
Honorable Mention (alphabetical): Gabe Arteaga, Texas Brahmas – Logan Brown, Northeast – Michael Dalaly, Milwaukee – Lukas Dany, Louisiana – Bode Dunham, Sheridan – Tyler Fisher, Long Beach – Hunter Hein, Texas RoadRunners – Cooper Katola, New Ulm – Ryan Kerr, New Mexico – Sam Knight, Oregon – Logan Kroyman, Rochester – Baden Powell, Great Falls
True Hockey NA3HL Goaltender of the Month: Pierson Haislet, New Mexico Ice Wolves
New Mexico netminder Pierson Haislet was great in net during the month of January finishing with a 4-1 record. Haislet turned away 107 of the 112 shots he saw over the course of 5 games, while only allowing 5 goals. The Chicago, IL native also posted a 17 shot shutout win. Haislet combined for a 1.00 GAA and a .955 SV% throughout January.
Runner-Up: Jesse Schindel, Helena BigHorns
Honorable Mention (alphabetical): Paul Cassin, Granite City – Tate Cothern, Rochester – Brendan Forden, Texas Brahmas – Nolan Lacosse, New Ulm – Patric Loeffler, Sheridan – D'Mar McCoy, Northeast – John Moriarty, Louisiana – Logan Motz, Texas RoadRunners – Ryo Murakami, Long Beach – Ryan Stowe, Great Falls – Aleks Sumoski, Atlanta