February 24, 2023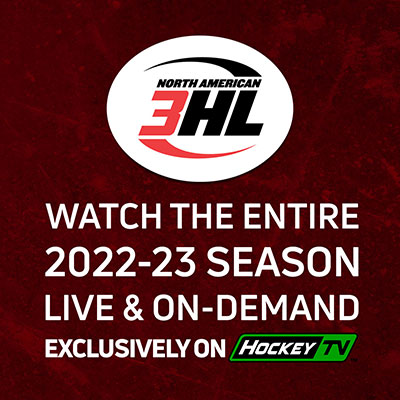 Just two weekends remain in the NA3HL regular season and the race for the final six playoffs spots is at a full sprint.
The other intriguing race is for the division titles in the Central, Frontier, and South Divisions. All of those races will come down to the final two weeks.
The NA3HL had a great week of college commitments this past week with two players making their plans, including another alumni making an NCAA Division I commitment.
The 2023 Fraser Cup Playoffs begin on March 9th. The five divisional playoff champions and one wild card team will advance to the NA3HL Fraser Cup Championship Tournament, where they will play a two-game round-robin format followed by a semi-final and a championship game at the St. Peters Rec-Plex in St. Peters, MO from March 22-26.
Follow the games on the NA3HL App:
Download the iOS App Store version here
Download the Google Play version here
All games broadcast live on HockeyTV
Friday, February 24
Danbury at Norwich - 11:30 AM EST
New Mexico at Atlanta - 7:40 PM EST
Texas RoadRunners at Austin - 7:00 PM CST
New Ulm at Alexandria - 7:10 PM CST
Granite City at Mason City - 7:10 PM CST
Milwaukee at Wausau - 7:10 PM CST
El Paso at Mid Cities - 7:30 PM CST
Willmar at Minnesota - 7:30 PM CST
Rochester at Oregon - 7:30 PM CST
Louisiana at Texas Brahmas - 7:30 PM CST
Helena at Gillette - 7:05 PM MST
Badlands at Butte - 7:30 PM MST
Bozeman at Great Falls - 7:30 PM MST
Yellowstone at Sheridan - 7:30 PM MST
Saturday, February 25
Granite City at Mason City - 3:10 PM CST
Peoria at St. Louis - 3:30 PM CST
Danbury at Long Beach - 5:00 PM EST
New Jersey at Northeast - 6:30 PM EST
Texas RoadRunners at Austin - 7:00 PM CST
El Paso at Mid Cities - 7:00 PM CST
Bay State at Norwich - 8:00 PM EST
Minnesota at Alexandria - 7:10 PM CST
Milwaukee at Wausau - 7:10 PM CST
New Mexico at Atlanta - 8:20 PM EST
Rochester at Oregon - 7:30 PM CST
Louisiana at Texas Brahmas - 7:30 PM CST
Helena at Gillette - 7:05 PM MST
Badlands at Butte - 7:30 PM MST
Bozeman at Great Falls - 7:30 PM MST
Yellowstone at Sheridan - 7:30 PM MST
Sunday, February 26
Peoria at St. Louis - 11:00 AM CST
Norwich at Bay State - 12:30 PM EST
New Jersey at Northeast - 12:30 PM EST
New Mexico at Atlanta - 2:10 PM EST
Danbury at Long Beach - 2:30 PM EST
Willmar at Mason City - 2:10 PM CST
Louisiana at Texas Brahmas - 2:30 PM CST
El Paso at Mid Cities - 3:15 PM CST
New Ulm at Alexandria - 7:10 PM CST