Grizzlies and Blizzard advance to Division Finals
March 13, 2023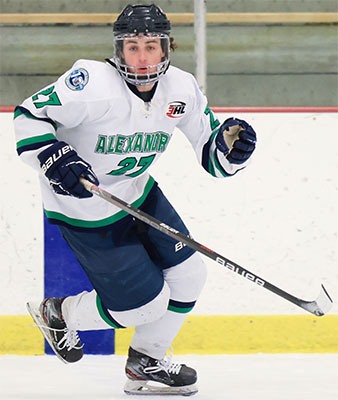 Central Division Semi-Finals, Game 3: Peoria 1 @ Willmar 5 (Rochester wins series, 2-1): The Grizzlies picked up a 5-1 victory over the Mustangs and put themselves en route to the Central Division finals. Ben Oakland opened up the scoring 8:23 into the 1st period. Adler Johnston and Luke Morrisette both buried goals in the middle frame to extend the lead. Luke Sawicky and Johnston added on more insurance goals in the 3rd period. Peoria's lone and final goal of their season came 9:02 into the 3rd on the powerplay, goal scored by Perry Lagatuz. Tate Cothern picked up the win making 12 saves on 13 shots. Cam Pendleton and Joseph Ambroffi combined for 37 saves in the loss.
West Division Semi-Finals, Game 3: Mason City 2 @ Alexandria 9 (Alexandria wins series, 2-1): A dominant six-goal 3rd period helped the Blizzard brush past Mason City 9-2 to clinch their spot in the Division Finals against Granite City. Sean Kenny buried a pair in the 1st for the Blizzard while Mason City's Cal Levis III kept it close with a tally of his own. Alexandria's Justin Wasvick and Mason City's Cullen Hogan traded goals in the middle frame to hold a 3-2 score through 40 minutes. The Blizzard caught fire in the 3rd as Joe Gronholz, Kenny, Cole Klingbeil (2), Ryan Hadland, and Michael DeBrito all found the back of the net. Konrad Kausch made 29 stops in the win while Connor Graham kept out 32 for the Toros.
South Division Semi-Finals, Game 2: TX Brahmas 2 @ Louisiana 4 (Series tied, 1-1): The Drillers bounced back and took down the Brahmas 4-2 to even the series score at one game a piece. The two squads traded scores in the 1st period as Thomas Mougin tickled twine for the Drillers while Gage Vierzba buried for the Brahmas. Rory Neish scored a pair of goals in the 2nd for Louisiana and Aron Lundgren added another from Mougin and Frank Steinway. Texas's 2nd goal came 3:59 into the 2nd from David Juul. John Moriarty came away with the win between the pipes making 24 saves on 26 shots. Brendan Forden made 29 stops in the loss for Texas.