March 17, 2023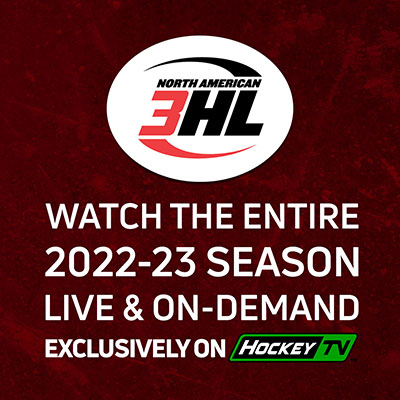 The 2023 NA3HL Fraser Cup Playoffs continued on Wednesday and Thursday night with three games as the Division Finals got underway.
The Division Finals take place this weekend with the winners advancing to the Fraser Cup Championship. The five divisional playoff champions and one wild card team will advance to the NA3HL Fraser Cup Championship Tournament, where they will play a two-game round-robin format followed by a semi-final and a championship game at the St. Peters Rec-Plex in St. Peters, MO from March 22-26.
A round-robin format with two pools will be implemented, with the top two teams in each pool advancing to the Semi-Finals, where they will then cross over to play the other top two teams from the other pool. The winners of the Semi-Finals will advance to the Fraser Cup Championship Game.
Follow the games on the NA3HL App:
Download the iOS App Store version here
Download the Google Play version here
All games broadcast live on HockeyTV
Central Division
#1 Rochester Grizzlies vs. #2 Oregon Tradesmen
Game 1: Friday, March 17 @ Rochester, 7:05pm
Game 2: Saturday, March 18 @ Oregon, 7:30pm
Game 3: Sunday, March 19 @ Rochester, 5:05pm*
East Division
#1 Northeast Generals vs. #2 Danbury Jr. Hat Tricks (Northeast leads series 1-0)
Game 1: Danbury 2 @ Northeast 12
Game 2: Friday, March 17 @ Danbury, 3:00pm
Game 3: Sunday, March 19 @ Northeast, 2:00pm*
Frontier Division
#1 Helena Bighorns vs. #2 Gillette Wild (Gillette leads series, 1-0)
Game 1: Helena 2 @ Gillette 5
Game 2: Friday, March 17 @ Helena, 7:05pm
Game 3: Saturday, March 18 @ Helena, 7:05pm*
South Division
#2 Texas Brahmas vs. #4 New Mexico Ice Wolves (Texas leads series, 1-0)
Game 1: New Mexico 3 @ Texas 6
Game 2: Friday, March 17 @ Texas, 2:00pm
Game 3: Sunday, March 19 @ New Mexico, 4:00pm*
West Division
#1 Granite City Lumberjacks vs. #2 Alexandria Blizzard
Game 1: Friday, March 17 @ Granite City, 7:30pm
Game 2: Saturday, March 18 @ Alexandria, 7:10pm
Game 3: Sunday, March 19 @ Granite City, 5:00pm*
*if necessary