How the West was won: Blizzard, Lumberjacks advance to title game
March 25, 2023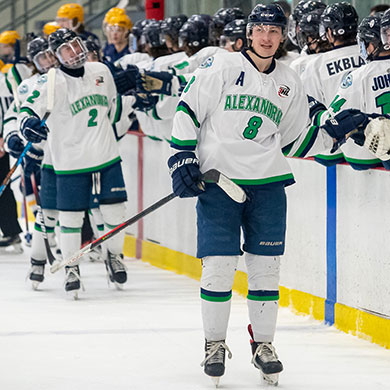 The 2023 NA3HL Fraser Cup Championship continued on Saturday, March 25th with two exciting Semi-Final games as the Alexandria Blizzard and Granite City Lumberjacks both punched their tickets to the Fraser Cup National Championship game on Sunday with wins.
The 2023 Fraser Cup takes place from March 22-26 at the St. Peters Rec Plex in St. Peters, Missouri. Six teams have advanced to the season-ending event, which annually crowns the NA3HL National Playoff Champion.
Games can be seen live and in HD on HockeyTV
Admission to all Fraser Cup games is free.
For more information about the Fraser Cup, please visit: http://na3hl.com/fraser-cup/
2023 Fraser Cup Championship Schedule (all times Central)
Wednesday, March 22: Alexandria Blizzard 4 vs. Texas Brahmas 1 | Oregon Tradesmen 3 vs. Helena Bighorns 4 (Shootout)
Thursday, March 23: Alexandria Blizzard 3 vs. Granite City Lumberjacks 1 | Oregon Tradesmen 3 vs. Northeast Generals 2
Friday, March 24: Texas Brahmas 1 vs. Granite City Lumberjacks 6 | Helena Bighorns 4 vs. Northeast Generals 1
Saturday, March 25, Semi-Finals: Alexandria Blizzard 3 vs. Oregon Tradesmen 2 | Helena Bighorns 2 vs. Granite City Lumberjacks 4
Sunday, March 26: Fraser Cup National Championship Game - Alexandria Blizzard vs. Granite City Lumberjacks, 3pm
Day 4 Recaps
Fraser Cup Semi-Final #1, Alexandria 3 vs. Oregon 2 – Blizzard goalie Konrad Kausch made 27 saves to lead his team to a 3-2 win in the Fraser Cup Semi-Finals over Oregon to advance to Sunday's Championship Game. Alexandria was bolstered by two goals in the 1st period as a power play goal from Hayden DeMars and an unassisted goal from Ryan Hadland put the Blizzard up 2-0. The Tradesmen responded with fury in the opening half of the 2nd period as goals from Blake Stafford and Dillon Schmidt tied the game at 2-2 midway through the contest. The eventual game-winner came late in the 2nd period as Calvin Knight scored to make it a 3-2 game. Kausch and the Blizzard would hold the fort for the final 20 minutes to move to 3-0 at the Fraser Cup and punch their ticket to the title game. Tradesmen goalie Tyler Fromolz made 30 saves in the losing effort.
Fraser Cup Semi-Final #2, Granite City 4 vs. Helena 2 – Lumberjacks forward Tanner Brouwer scored two goals to help his team to a 4-2 win over Helena in the second Fraser Cup Semi-Final. The win sets up an all-West Division Fraser Cup Championship as Granite City will face Alexandria on Sunday. After a scoreless 1st period, Helena was first to score as Tyler Alldredge netted his second goal of the event with a power play goal to make it 1-0. The Lumberjacks stormed back later in the 2nd period with goals from Brouwer and AJ Schemenauer to take a 2-1 lead. In the 3rd period, Helena tied the game at 2-2 with an early goal from Ty Moore. However, Granite City would pull away with the second goal from Brouwer and another goal from Paul Huglen to claim the 4-2 win. Ryan Lehet made 14 saves in the win, while Keaton French made 20 saves in the loss for the Bighorns.