NA3HL's Rhinos announce Fritz as new head coach
March 31, 2023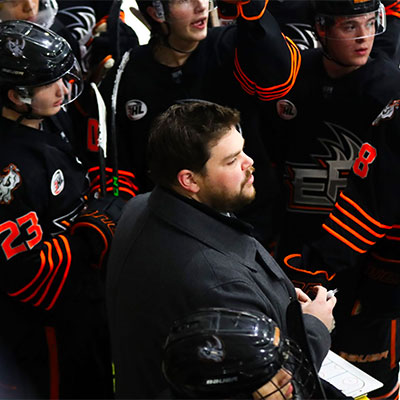 The El Paso Rhinos of the NA3HL are excited to announce that Interim Head Coach Ed Fritz has been named the new Head Coach and Assistant General Manager of the El Paso Rhinos NA3HL team.
Fritz' first season in Rhino Country was during the 2010-11 when the Seal Beach, CA native Fritz finished his junior hockey career with the El Paso Rhinos. He was a member of the silver-medalist team that earned second place in the AAU National Championship game.
Following his time in El Paso, he went on to play NCAA DIII hockey at Salem State College where he also served as the Assistant Coach for a season. He also coached at Lake Tahoe Prep Academy before returning to El Paso in 2021 as the El Paso Hockey Association's Goaltending Coach and the NAHL Assistant Coach. In February 2023, he was named the Rhinos' NA3HL Interim Head Coach for the final month of the regular season.
Rhinos' NA3HL General Manager Corey Heon believes that Fritz' experience, both with recruiting and coaching in Rhino Country, will make him successful as the Rhinos' next head coach.
"I am very honored to welcome Eddie Fritz as the new Head Coach and Assistant General Manager for the El Paso Rhinos NA3 team," Heon said. "He has gained experience over the past few years in our organization, first as a player and then as an assistant coach with our NAHL team. Eddie is a very energetic, knowledgeable, classy young man that is a proven recruiter. His personality fits our organization and there is no doubt he will continue to lead our organization at the highest level. I am excited for the next chapter for Rhino hockey."
Fritz is excited to lead a team for which he once played. "I take great pride in being named head coach in El Paso, especially as a former player," he said. "I am extremely grateful to our ownership for their trust and this opportunity. I look forward to beginning the process together."