2023 NA3HL Draft takes place on Wednesday
April 19, 2023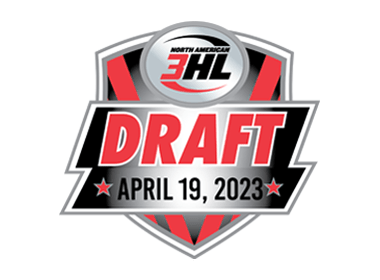 The 2023 NA3HL Draft is ready to go and will take place on Wednesday, April 19th at 1pm (central) and will be conducted online at na3hldraft.com
Fans and players will be able to following the draft one of three ways:
1) Follow online at na3hldraft.com
2) Follow each selection on twitter at: @NA3HL
3) Watch a free live broadcast of the draft on HockeyTV
Here are some important reminders and informational bits about the draft as it approaches:
What is the order of the NA3HL Entry Draft?
Eligible teams shall make selections in each round in reverse order of their finish (winning percentage) in the 2022-23 NA3HL regular-season standings. New member clubs that did not play in either league in 2022-23 shall have their order of selection determined by lottery. If there is only one new member club, it shall have the first selection in each round.
2023 NA3HL Draft Order (minus any trades)
1 New Hampshire Jr. Mountain Kings
2 Mid Cities Jr. Stars
3 St. Louis Jr. Blues
4 Austin Ice Bats
5 Badlands Sabres
6 Minnesota Loons
7 Wausau Cyclones
8 Yellowstone Quake
9 Wisconsin Woodsmen
10 Great Falls Americans
11 Willmar WarHawks
12 New Jersey Titans
13 Long Beach Sharks
14 El Paso Rhinos
15 Bozeman Icedogs
16 Atlanta Capitals
17 Butte Cobras
18 Norwich Sea Captains
19 Peoria Mustangs
20 New Mexico Ice Wolves
21 Sheridan Hawks
22 Danbury Jr. Hat Tricks
23 Mason City Toros
24 Milwaukee Power
25 Louisiana Drillers
26 Alexandria Blizzard
27 Oregon Tradesmen
28 Texas Brahmas
29 Rochester Grizzlies
30 Texas RoadRunners
31 Gillette Wild
32 Helena Bighorns
33 Granite City Lumberjacks
34 Northeast Generals
Who is eligible for the NA3HL Entry Draft?
Amateur players less than 21 years of age on December 31, 2023 who are not listed on an NA3HL team roster or are listed on an NA3HL team roster but played less than (10) NA3HL regular season and/or playoff games during the 2022-23 season and did not accept a tender from an NA3HL team prior to the 2023 NA3HL Entry Draft are eligible for selection in the draft.
Do prospective NA3HL players have to register for the NA3HL Entry Draft?
No, there is no registration process to be eligible for the NA3HL Entry Draft.
How many rounds is the draft?
The NA3HL Entry Draft shall consist of four (4) rounds. Each eligible NA3HL Club shall be entitled to one selection per round unless it has acquired or lost selections due to approved trades with other NA3HL Clubs.
Are drafted players eligible to try out for other NA3HL teams?
Unless agreed upon in writing by the two NA3HL teams, tendered or drafted players are not eligible to try out for other NA3HL teams.
Are drafted players eligible to try out for teams in other junior leagues?
Yes, all tendered and drafted players are eligible to try out for any team in any league other than the NA3HL in the U.S. and Canada.
Will the NA3HL Entry Draft be broadcast?
Yes, the NA3HL Entry Draft is scheduled to be broadcast with live round-by-round coverage on HockeyTV, official broadcast partner of the NA3HL. The draft will be broadcast by Director of Communications, Alex Kyrias and the host of the Short Shifts Podcast, Brandon Hofstra.
Will the results of the NA3HL Entry Draft be posted on NA3HL.com?
Yes, the results of the NA3HL Entry Draft will be posted on NA3HLDraft.com in alphabetical order in its entirety upon completion.
Will all NA3HL tenders signings be posted on NA3HL.com?
No, all tender signings will not be posted on NA3HL.com. NA3HL teams may make their tender signings public, but are not required to do so.
What if a prospective player is not drafted, but is still interested in playing the NA3HL?
Players not drafted but who still want to play in the NA3HL are encouraged to attend individual team's open tryout camps.