September 5, 2023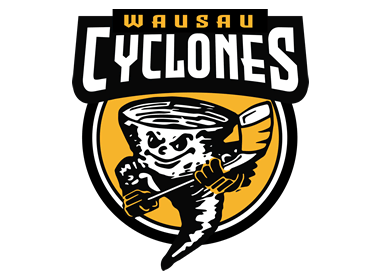 The 3View series will feature an in-depth look into all NA3HL teams in preparation for the 2023-24 season, with two teams being highlighted daily, leading all the way up until the start of the regular season. 3View goes in-depth into each NA3HL team and will include interviews with all the head coaches in the NA3HL, as they provide fans with their expectations and outlook for the 2023-24 season, including taking a look at their potential roster and their strengths as a team for the upcoming season. It will also take a look back on the 2022-23 season and how each team fared and what they accomplished. Best of all, 3View will provide the fans of the NA3HL with an inside look at their favorite team and what to expect.
Wausau Cyclones
Head Coach: Nathan Oystrick (2nd season)
2022-23 Record: 13-30-4, 30 pts. (5th in Central Division)
2022-23 Leading Scorer: Gage Vierzba (52 Points)
2023 Playoffs: Did Not Qualify
2023-24 Division: Central Division
After joining the Cyclones days before the 2022-23 season started, Head Coach Nathan Oystrick admitted it was a bit different. With not knowing any of the players or much about the league, Oystrick relied on his Assistant Coach Jake Minch and previous Head Coach Colin Bailey to guide him through the transition.
"The opportunity kind of came out of nowhere so I will admit that I probably wasn't as prepared as I would have liked to be, but once I got to know all of the players and how things worked within the organization and the NA3HL, things started to calm down and we were able to focus more on hockey," Oystrick said.
Wausau was coming off of their first playoff berth after rebranding to the Cyclones in 2021-22. The postseason was cut short by the eventual 2022 Fraser Cup Champion Rochester Grizzlies.
Fast forward now back to the 2022-23 season where Oystrick took the reins as Head Coach. Last season the team finished 13-30-4-0 with a fifth-place spot in the Central Division. Though it was a tough season of learning and growth. With a learning year last season, and a good amount of returners, the Cyclones will have a lot more familiarity this year.
"We have a total of 13 players returning this year and each one will be extremely important to the success of our organization," Oystrick said. "Up front we have Gabe Randel and Ricky Nelson, who led our team in points last season. On the backend we are led by Adam Napravnik and Easton Plachetka who are both returning players who were a big part of our defensive corps and who have leaned on to play big minutes for us this season. In net we have Collin Lemanski coming back who was outstanding for us after a late season trade. All of them, along with all of the other returning players, will be leaned on to not only play well on the ice but asked to be great leaders and teammates off of it. They are all a huge part of building the culture we want to have, and I am excited, grateful and lucky to have such a great group of people coming back to lead our team."
Entering his second full season behind the bench, Oystrick has learned what the NA3HL has to offer to not only players, but coaches as well. Looking to grow individually and as an organization, Oystrick is looking forward to building chemistry and a family-oriented culture.
"Working with and being involved with the NA3HL, from coaches to office staff and media has all been great," Oystrick said. "The experiences that we are able to learn from is a huge bonus. The NA3 is a development league, not only for players, but for coaches as well and I am beyond grateful to be a small part of the league and our Wausau Cyclones organization. I have met some great people within the league and have nothing but great things to say about my time with the NA3HL and Wausau Cyclones. We obviously hope to put some more wins in the win column this year and we expect to be competitive, while again, helping our players develop and advance to the next level. We were able to recruit some great players this summer and I am looking forward to getting them all on the ice together, along with our returning veteran players and starting to work on building chemistry and a family orientated culture."
With a tremendous number of players who understand the systems and foundations that Oystrick laid last year, Nathan and his staff are more than excited to get going for the upcoming year.
"The season can't start soon enough for me personally," Oystrick said. "As I mentioned we hope to be a competitive team this year and hopefully make some noise in March and April. I think every team and coach goes into the season wanting to win a championship. Our hopes and goals will be the same. But the journey and lessons are just as important, so I am hopeful that we can continue the growth of our organization and continue to help players advance and continue their young hockey careers, while bringing a championship to Wausau."
Oystrick and the Wausau Cyclones will kick off the 2023-24 season on the road for a faceoff against one of the newest teams in the NA3HL, the Wisconsin Woodsmen on September 16th.
Next Up: West Bend Power